Annual Staffordshire Get-together & AGM October 2010
---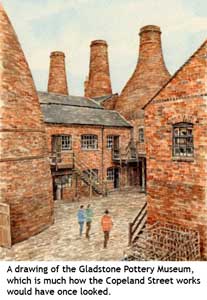 The date has been fixed for 2010 and is Sunday 10th October. 10-10-10
!
with Optional events on Saturday 9th October.



Last year's Get-together in Stoke-on-Trent was our best ever. This year promises to be even better and it looks as though we will have glorious weather too.

Booking is now closed for this year but details of this, our premier event, are given below.
---
Annual Staffordshire Get-together & AGM October 2010
Etruria Hall, Stoke-on-Trent - Sunday 10 October 2010 with optional Carlton Ware related events on Saturday the 9th.
Again, we have a full Carlton Ware-packed event for you this year and look forward to seeing you. We are so pleased with the venue used in the previous two years that we hold it again in Etruria Hall, which is part of The Moat House Hotel.
As with last year, to keep the cost down in these price conscious days, we have booked the venue for one day, instead of two, but for those of you who like to spend the whole weekend in The Potteries and environs, some leisurely Carlton Ware related events are also arranged for Saturday the 9th October.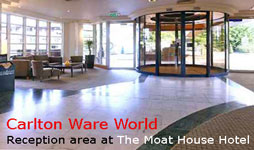 The price has also been fixed at last years rate of £45 per person, which is fantastic value.

This includes lunch and refreshments throughout the day, and also covers the cost of hiring the room and equipment. Accommodation is not included, so that you could make your own arrangements to suit you pocket. We make this easy for you so you can choose rooms from
£19 to £99. To go to our Accommodation page
click here.

Sunday's events will include the following:-
Alison Morgan, Curator of the Dudson Museum gives a talk on "The History of Dudson Pottery", which has interesting parallels with Carlton Ware, particularly around the late nineteenth and early twentieth centuries.

Dudson's is the oldest surviving business in the ceramic tableware industry and has been in production for over 200 years. The original factory boasts a grade two bottle oven which has been converted into an extraordinary museum.
This is preceded with a talk by Sara Broom on "Carltonitis" and after lunch Tony Wood, another avid collector, offers his thoughts about our favourite pottery.

As always, in the afternoon we are joined by former employees, who kindly give up their time for us to chat to about their days at Copeland Street.

Also, don't forget if you have any unusual or interesting Carlton Ware you would like to bring along our experts should be able to tell you about them.

2010 Optional Saturday events.



For those of you who like to spend the weekend in Staffordshire, we have organised a visit to the Gladstone Pottery Museum. Part of the day is left open when impulsive and impromptu suggestions at the time lead us to....

In the evening, we hope that you will be able to join us for dinner at the Moat House Hotel. Again, this is optional.
---
To give you a flavour of our Premier Event, you can read a report on our
2009 Get-together by clicking here. This will open in a new window.
---
Go to TOP of page