Carlton Ware's PERSIAN pattern
---
This article was written to mark the beginning of the Persian New Year or Nowruz.
It signifies the onset of Spring and marks the Equinox.

What better time is there to feature Carlton Ware's
PERSIAN
pattern?

Ware decorated with this exotic pattern was usually marked with a special backstamp
printed in gold and as shown below left.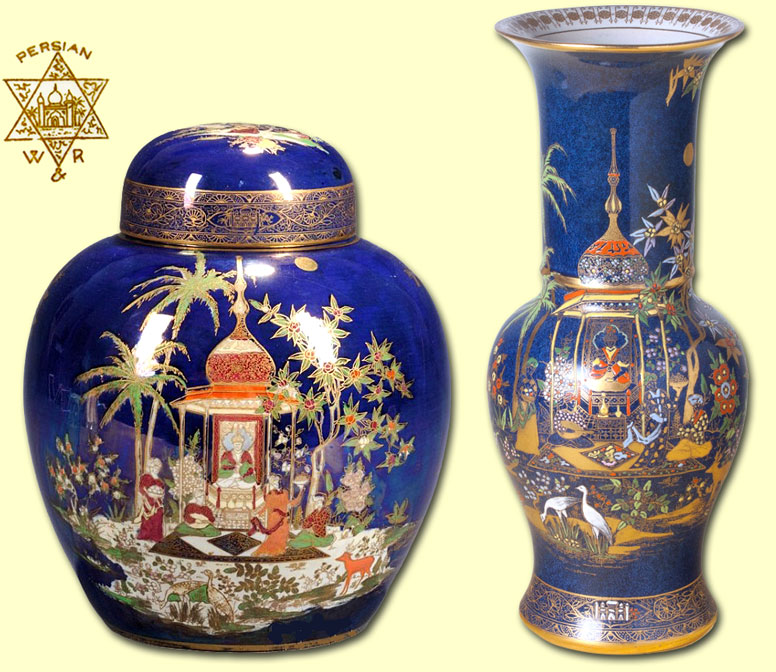 The ginger jar, above left, shows
PERSIAN
as an underglaze decoration with on glaze lustres. The baluster vase on the right shows it as a gold printed and raised enamel decoration.

Notice the difference between the cobalt blue background on the ginger jar and the Powder Blue ground on the vase. Powder Blue has a distinct mottled effect.

The main element of the
PERSIAN
pattern depicts a pavilion in an exotic garden. In the centre of the pavilion, a sultan sits cross-legged on a peacock throne. On the carpet before him, two musicians play their instruments and two standing figures ply bowls of fruits. Two wading birds and a stag populate the foreground.

The pattern, by Enoch Boulton, is likely to have been inspired or perhaps copied from a Persian manuscript. Below are two examples with similar themes.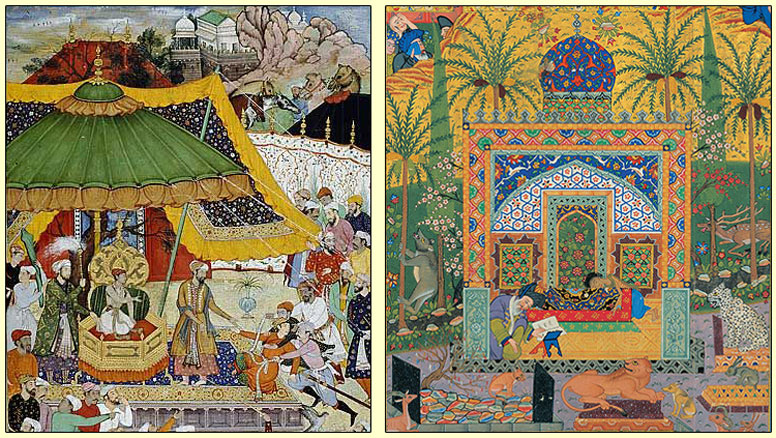 ---
There are several smaller elements to the pattern. These were needed so that the pattern could be used on a wide range of shapes, large or small. Below is a
VELOX
bowl with one such on a Powder Blue ground.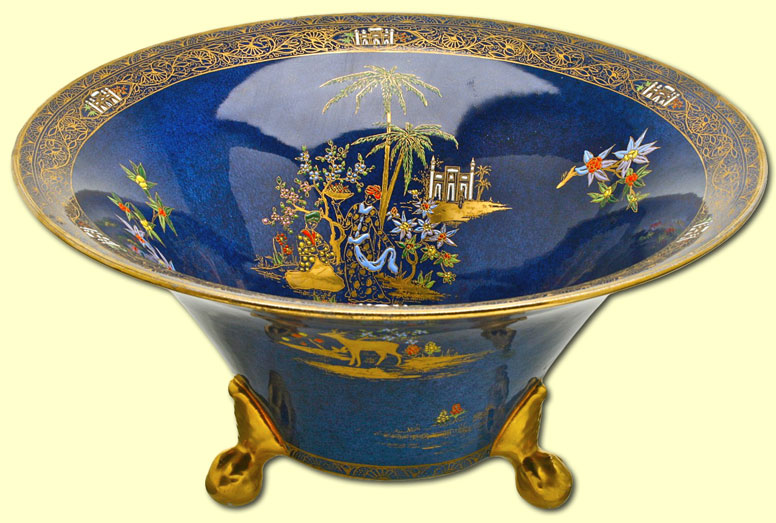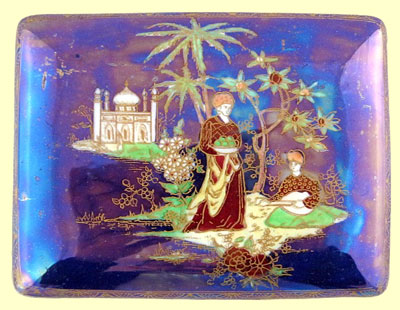 Another smaller element is shown on the lid of the cigarette box on the right. This is has an iridescent petrol blue lustre ground.

All of these elements were engraved onto one large copper plate and when printed onto a special tissue paper were cut up into separate sections for use.

For underglaze decorations, the pattern was first printed in "smoke", a pale grey colour, onto the white biscuit ready for the underglaze biscuit painting. The subsequent gold print has to be applied so that it lined up exactly with the smoke print.
---
As with many Best Ware patterns,
PERSIAN
had its own border called
PERSIAN BORDER
. The full border was very wide, as shown on the cigarette box base here and on the cover to the ginger jar at the top of the page.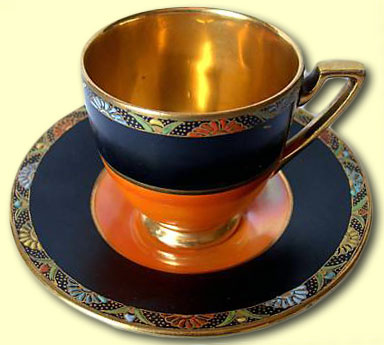 Often only part of a wide border was needed.
Carlton Ware called these beads. Many were used on coffee ware, the
PERSIAN BORDER BEAD
2922 coffee cup and saucer on the right is a good example.

Sometimes another border was used, as on the rim to the baluster shape vase at the beginning of this article. Curiously, most people don't notice the border patterns, though many decorations would look unfinished without them.

Aside from the three
PERSIAN
variants shown here, ten others are listed in pattern records. There were five of
PERSIAN BORDER BEAD
. ❑

©Harvey Pettit 2015