---
This ewer and bowl decorated with a Christmas tree is currently for sale on eBay. As you can see from the inset it has a script mark, around which has been added some misaligned sprigs of holly and the words Seasons Greetings.

We are unsure of the sets pedigree, but can be sure that it was made relatively recently, since a modern lithograph is used. Neither the shape nor pattern is listed in factory records.

It may have been made during the time that Carlton Ware was owned by the holding company County Potteries between 1987 and 1989, before the new owners liquidated Carlton.

County Potteries, formerly a health clinic, also bought James Kent, another Staffordshire pottery a few months before, and it is possible that the ewer and bowl are Kent shapes made at Kent's Old Foley Pottery in Longton.

Part of the back of Kent's neglected King Street works is shown on the right. This picture was taken shortly before demolition in 2006.

Unlike Carlton Ware made at Copeland Street, James Kent looked to the past for its shapes and patterns and this ewer and basin might be a good example.

This suggestion would be confirmed if the ewer and bowl were found with a James Kent backstamp, with the same or different decoration. Alternatively, the set might be fake - the Script mark on it is that used on many fakes.

Carlton Ware World does not accuse sellers of knowingly selling fake items. Sellers too can be duped by those from whom they bought the item/s.
Scroll down for more.

---
Some are not what they are made up to be?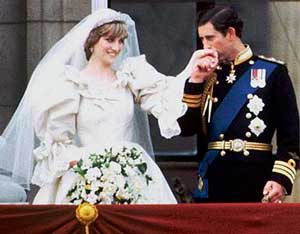 In 1959, an article from the Housewives Guide to Antiques was the first to use the word marriage to describe an item made up from parts differing in provenance or date. Although dealers may have used the term verbally for longer, it has now entered into general use.

Founder member Helen Martin drew the term to our notice when she spotted a spate of "unusual" cruets on eBay recently and suggested we write about them.

The cruet is a prime candidate for a marriage because it can have as many as six separate items, namely the salt, pepper, mustard with lid and spoon as well as a base.
If any of these is missing, it is not too difficult to find a replacement from another make of pottery to "complete" the set.


The most convincing marriages are those where a Carlton Ware base is used with a salt and pepper pot made by another pottery.

A good example, presently for sale on eBay, is shown on the right. The base is marked Carlton Ware, but because of their small size the strawberries, or indeed most salts and peppers, are not backstamped.

It might be easy to tell if they are wrong by handling them, but it is much more difficult from a photograph, as is the case here. Often, in such instances, only a thorough knowledge of ware can establish whether the item is pucker or not. This marriage is compounded by the use of what appears not to be a salt and pepper base but one intended for a sauce boat. The made up set sold on the 3rd July for £17 including p&p.


The vegetable cruet marriage on the left, also spotted by Helen, is less difficult to detect. Here, the mustard is wrong, although in this instance it is Carlton Ware but from another popular cruet. It should be in the form of an onion, which cleverly the cuckoo in this nest is close to being.

© Harvey Pettit 2008. ❑


Thank you John from Australia for your compliments on our new site. John writes -


Only Carlton Ware World cleverly and amusingly juxtaposes a picture of Princess Diana (god bless her) with that of a carrot! Keep up the excellent work.
---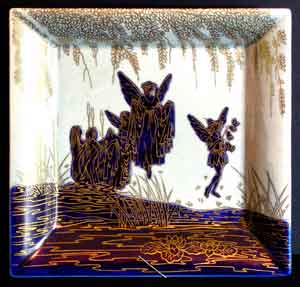 Another recently made item of Carlton Ware was pointed out to us this week for sale on eBay. Its pattern, however, suggests that it is an early twentieth century piece.

The backstamp, has the word genuine above the well-known script mark, which ends with a superscripted TM.



The addition of TM, which stands for trade mark, tells us that the item probably comes from the stable of Francis Salmon, who is the present owner of the script trade mark. We guess that this shallow bowl was probably made for him at the Moorland Pottery in recent years.

Clearly, the pattern here is influenced by the fairy book illustrators from around 1910, and indeed it might be a copy of such an illustration, since these are out of copyright. Perhaps someone can identify it?

Without doubt, this item did not originate from Copeland Street, so is not old. Carlton Ware has to one of the most widely faked potteries. Although this is flattering to the original pottery, it is also infuriating! See our Is it New or Is it Fake? page, which will help you identify other pieces such as this.

Working from the pictures provided by the vendor, the pattern appears to be a lithographic print. This suggests that it was produced in reasonable numbers, or if a fake about to be made in some numbers. Curiously, the seller is based in the USA; the sale ended on 30th April and attracted one bid of $75.

After the sale, the seller kindly took the trouble to email us with the following information.

It belongs to a friend who used to deal in new Moorcroft Pottery. He has owned it for at least five or six years, so it more than likely it was produced by the owner of the trademark. I did not know how old it was, and did not guess in my eBay auction. I hope this information is useful to you.
NOTE - August 2008

We can now confirm that the tray was made for the present owner of the Carlton Ware trade mark. It was called Angels. Although it has been discontinued, examples are still available.
---
Go to TOP of page