---
Carlton Ware World does not accuse sellers of knowingly selling fake items. Sellers too can be duped by those from whom they bought the item/s.


---
Harrods fakes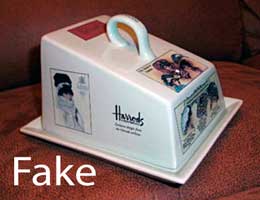 Over the last months fewer Carlton Ware fakes have appeared for sale on eBay.
The two shown above, which have just appeared, might herald a new batch.

This time the faker is using the Harrods name and associated advertising prints. The source is again from a seller in Milton Keynes, this time from harley-mace. Is this another seller name for nevetswogsalg (Glasgow Steve backwards), who offered many Carlton Ware fakes over the last year from Milton Keynes?

Carlton Ware did make for Harrods in the 1980s. Below are some of the better known models.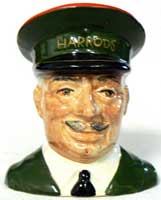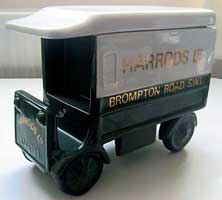 Scroll down for more.

---
Apples, Pears & the Fab Four
Fruit shapes, as part of Carlton Wares extensive ranges of SALAD WARE, were first introduced in the 1930s, although most date from the 1960s onwards. The PEAR eggset on the left was first produced in the late 1960s and as a popular line it was made for a number of years. The eggcups are in the form of apples, the salt is as a pear and the pepper pot as a lemon. The set was also available with four eggcups as in the picture below. However, Carlton Ware did not produce Beatles merchandise, as the set below suggests. We suspect that Fab Four were added at much later date.
We have reported on the use of the Beatles transfers on pottery before in articles below.

Some is fake Carlton Ware and some, as here, reuses original Carlton Ware shapes.

We conclude that the decorations have been applied by persons presently unknown to deceive collectors of Carlton and Beatles memorabilia. We observe that such items first began appearing after Carlton Ware ceased production at Copeland Street.
This year marks forty years since the Beatles last performed live. The memorabilia licensed by The Beatles is vast. Today's serious Beatles collectors concentrate on the early 1960s licensed Beatles items, as well as the Yellow Submarine wave of memorabilia produced in 1968. We doubt that the pottery we have featured was licensed. You can view the sale of the eggset above on eBay by clicking here. The seller offers numerous Carlton Ware fakes.
Carlton Ware World does not accuse sellers of knowingly selling fake items. Some do, some don't.
Earlier eBay Watch items are moved to eBay Watch pages. To view these click on the EBay Watch link on the sidebar menu to the left at the top of this page.
Scroll down for more.

---
Don't be Fooled!
We have had several enquiries about the clown money boxes, shown on the left, asking us if they are genuine, since the both have a Carlton Ware Script backstamp.

Clearly, as the caption we have added to the picture says, they are not. They are unlike anything produced by our favourite pottery, although Roger Michelle did feature clowns in his Circus range for Carlton Ware, which was made in the 1980s, and modelled in a much more stylish way than these.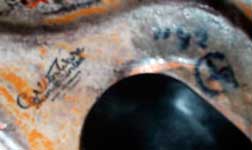 For sometime, we have thought that someone has been adding the Script mark to ware made by other potteries. So far, only pots originally made without any backstamp have been seen.

These are the first ones that have an original makers mark, which is presently is unidentified. It looks like the letter C inside inside which sits a simple drawing of a house, as a child might draw it.
---
More Rotten Apples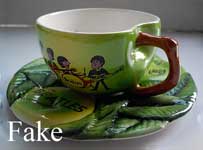 In November 2008 we showed you examples of fake Carlton Ware with Beatles transfers. Some used original Carlton Ware shapes from the APPLE range to which had been added the Beatles name and images of them well after the time of their original manufacture.

This cup and saucer is new to us.

Notice how crudely and heavily embossed the saucer is. Carlton Ware did not use such decorations, nor did they produce this shape.
Scroll down for more.

---
Can you bear this?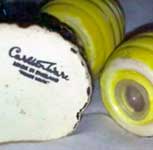 The inferior modelling and decoration on this cruet with a koala bear finial is a sure sign that this is a fake. Notice the smudged black on the base - far too untidy for Carlton Ware.

This may be an example of a old unmarked item by another pottery to which a fake Script mark has been recently added. ❑
Scroll down for more.

---
Another batch of fakes!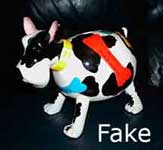 Here are three more fakes for you to be aware of, none of which have been posted to our site before, though they may look familiar. These all appeared on eBay in the last couple of weeks. Typically all relate to advertising a product and all use the faked script mark.

Carlton Ware made advertising ware for numerous companies, which the fakers know only too well, and since there are so many it can be difficult to know which is genuine, though generally the fakes are poorly potted and decorated in an inferior way. ❑

Scroll down for more.

---
Dragonflies Den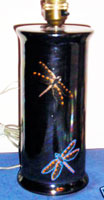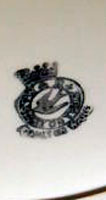 Only rarely is Best Ware faked, no doubt, because it is much more difficult to do since the decoration usually involves gold printing and raised enamelling. From time to time, primitive attempts have been made and the lamp base on the left is a good example.

The shape is not a Carlton Ware one and the backstamp, with a different style of crown, is one not known to have been used by the pottery.

The seller told us it is "new and shiny"! Thank you Mike for spotting this one. ❑
---
Cup Cake Con?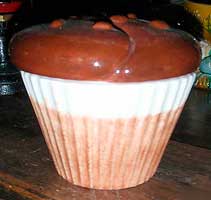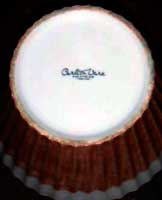 This large "cup cake", probably intended as a cookie jar and cover, appeared on eBay this week and although the vendor guarantees it not to be a fake or copy this was never made at Copeland Street.

We suspect that it is/was made by another pottery to which a fake Script mark has been added subsequently.

The cup cake derived its name from the pottery cup that was used to bake the cake and gave the traditional cup cake its shape. The paper case served as a barrier between the cup and cake for easy removal. ❑

---
Wednesday 19 November 2008
Rotten to the Core?
The Beatles broke up in 1969, long before 1981 when Carlton Ware introduced its APPLE range, so we can be certain that the teaset on the left is not contemporaneous with the Fab Four, as you might be led to believe.

Examples of this Beatles' APPLE teaset began appearing in the 1990s, well after Carlton Ware's Copeland Street works closed and where the APPLE range was made.
Carlton Ware did not produce a Beatles decorated version, confirmed by Linda Dobson, who was warehouse manageress at the time the APPLE range was in production.

Clearly, someone has taken original Carlton Ware and subsequently applied the Beatles transfers to it.

The salt and pepper on the right is another example from the APPLE range with the same onglaze transfers of the pop idols, again not applied at Copeland Street.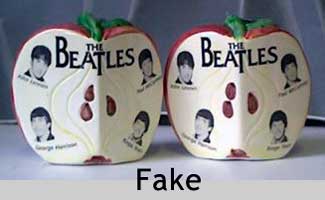 Significantly, a fake APPLE salt and pepper, taking a different form, has also been seen, using the same transfers. These are shown on the left.

The watering can salt and pepper, below, is also an out and out fake on a non Carlton Ware shape but with a fake Script backstamp. These use the same Beatles' signatures as found on the teapot above.



The use of all, or parts, of the same transfers on all of the Beatles items shown here suggests that all hark from the same source. Therefore, if one is fake then it is likely that all were made to deceive . ❑


Scroll down for more.

---
Confederation jug con!
In the late 1930s Carlton Ware introduced four highly elaborate limited edition pieces. These were, models of the King George VI and Queen Elizabeth, the Henry VII punch bowl and the Confederation jug, commemorating the confederation of Canada.
We have just spotted a fake Confederation jug on eBay. It is a vastly inferior to the original, which is shown alongside.

On the right is the fake's crude backstamp, and the original's detailed markings.

Helen Martin recalls that these fakes started appearing at fairs about fifteen years ago.

The starting price was £499! After no takers it was changed to £149.99.
Carlton Ware was well ahead of its time with its limited editions, which predominate with many potteries today.

The vibrancy of the colours and the skilful decorations used by Carlton Ware are also evident in the original limited edition Henry Eighth punch bowl shown on the left, which placed for sale on eBay in October 2008.

Alas, it has some damage to the foot and one handle. ❑
Scroll down for more.

---
Not Gnome to us!
We have seen this pixie, or gnome, once before, but it is not known to us as being by Carlton Ware. As you can see from the inset, the backstamp used is the Cooper Black mark adopted after the Woods took over the pottery in 1969.

This is so unlike anything that was made by Carlton Ware that we have to query its authenticity.

If you have any thoughts then let us know them by ❑
Scroll down for more.

---
Figure this one out!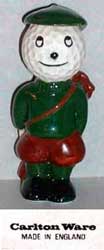 This fake figure has an identity crisis! It is a smaller faker re-modelled version of an original Hassall figure introduced by Carlton Ware around 1913.

The faker gives one a fake Cooper Black Carlton Ware backstamp and the other a fake Crown Devon mark.

The fake figure has been around for some time now and no doubt many will have been duped.

As with most fakes the decoration is vastly inferior to the originals. We wonder if other fake backstamps have been applied to this golfer's caddy. ❑


---
The fake Carlton Ware mug on the left, described as 'fantastic and rare', was offered for sale on eBay last week.

The inset shows a rather spidery fake backstamp, which appears to have been applied to an unmarked mug from another pottery.

It is possible that more of these fakes will appear, especially as we approach Christmas. ❑
Scroll down for more.

---
Wednesday 3 September 2008
The ginger jars shown on the left, and supposedly by Carlton Ware, according to the Script backstamp, shown in the inset, look very wrong to us here at Carlton Towers.

Not only is the shape different to ginger jars made by CW, but also the decoration is unlike anything known to have been used at Copeland Street. They look as though they might be made from a continental porcelain.

In addition, their backstamps look suspicious. We believe these to be examples of unmarked ware by another pottery to which a fake mark has been added recently.
Look out for more of the same. We will alert you if we find any more.

They were offered for sale on eBay and sold for £120 including p&p. ❑

Scroll down for more.

---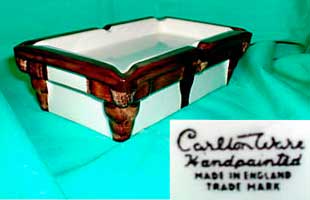 This poorly painted ashtray, in the form of a snooker table, was not made by Carlton Ware, as claimed by the fake backstamp, shown in the inset.

In September 2008 it sold for £18, including £6 p&p. ❑



Scroll down for more.

---
A Lie on the Ocean Waves


The fake Carlton Ware model of an ocean liner, shown left, appears for sale on eBay with some frequency.

This fake has been around for a number of years, but one has sold for £52 including p&p in August 2008. We therefore feel that we should place another warning that this was made recently and is not by Carlton Ware.
It carries a fake crown backstamp with Carlton Ware Ltd beneath the roundel. Ltd was never used with this mark. ❑
Scroll down for more.

---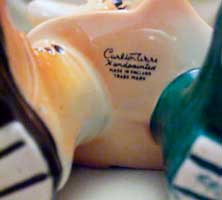 Described by the seller as "really rare" and "a collectors dream", this teapot, in the form of a scarecrow, is not by Carlton Ware.

It carries a fake script backstamp.❑
---
Where's the Wine Gums from Mum?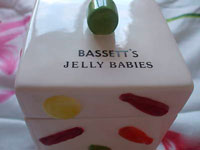 Last month we alerted you to a fake Bassett's Liquorice Allsorts box. We have now discovered a a Fake Bassett's Jelly Babies box, again on eBay. This too, we believe, was originally made for Marks and Spencer's to be sold last Christmas and to which, subsequently, a fake Carlton Ware Script mark has been added.

Although the lid of the box says Jelly Babies, the sweets decorating the box are wine gums. Perhaps in the Far East, where the boxes are thought to have been made, the difference between a wine gum and a jelly baby is not known. Because of this error the boxes could have been rejected and then found there way onto the open seconds market and thus into the hands of the fakers.

It appears that the box did not sell with a Buy it Now price of £30 and has been relisted with a starting price of £9.99 + £5 p&p. ❑
---
Saturday 21 June 2008
Heinz Meanz Fakez!



Member Jane Russell, who has an extraordinary collection of Carlton Ware toast racks, alerted us to one that was for sale on eBay and advertising Heinz 57 Varieties.

The seller did not show the backstamp but said it is marked Carlton Ware.

It is similar to the well-known Hovis toast rack that Carlton Ware made. Both are shown above so they can be compared. Close inspection reveals that they are made from different moulds and only the Hovis rack is embossed HOVIS.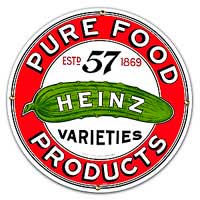 We know that Carlton Ware did not make ware for Heinz. To be sure of our facts, we contacted member Linda Dobson, Warehouse Manageress for Carlton Ware at Copeland Street, who confirmed this for us.

We conclude, therefore, that the toast rack is fake Carlton Ware. It has similar characteristics to many of the Guinness fakes that we have recently featured, namely a white glaze with on-glaze coloured lithographs.

The lithograph on the toast rack is copied from an old Heinz pickle jar label, shown right.

The toast rack had a starting bid of £9.99 and when its sale ended it attracted no bids. We think our message is reaching buyers, who might otherwise be duped. ❑
Scroll down for more.

---
Friday 16 June 2008
Du Barry fakes it!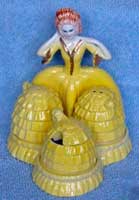 Madame Du Barry was the last mistress of Loius XV. She inspired the clever and amusing Carlton Ware cruet that was named after her. Clearly, the countess cut the mustard with the French King too!

Although the fake Carlton Ware
DU BARRY
cruets have been around for some time, we are reminded of them by one for sale on eBay recently and shown far left in a plain yellow crinoline with gilding to the bodice and sleeves. Gold was never used on this type of ware at Copeland Street.

An original cruet is shown next to the fake so you can see the difference. The fakes can look convincing because they are made from original moulds, which have found their way into the hands of the fakers, although clearly their decoration is vastly inferior.

The sale of the fake cruet attracted 3 bidders and sold for £48 including p&p.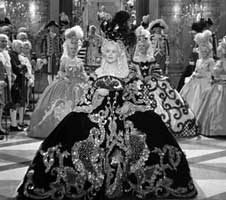 Du Barry was guillotined in 1793 during the French Revolution, entertaining the crowd with hysterics on the scaffold before being decapitated. (Wouldn't you?)

It is not too fanciful to suggest that the Carlton Ware cruet might have been inspired by MGM's 1938 opulent costume drama Marie Antoinette in which Gladys George played Du Barry. The picture on the right, showing George playing the courtesan, is courtesy of MGM. ❑
---
Fake Fathomed - Allsorts Sorted?



Tony, who runs the website Pottery Porcelain Links, spotted the fake Liquorice Allsorts box that we reported on last month and which sold for £46. He wrote to us saying

I see you have one of those Bassett's Liquorice Allsorts square box's on your site listed as fake. I saw one last Christmas in Marks & Spencer's for around £5-10 each. There was no makers mark. My boss likes liquorice allsorts, that's the only reason I remember.

We suggest, therefore, that some, or indeed many, of these boxes have found their way from the original, presently unknown, manufacturer and into the hands of unscrupulous fakers, who have applied the fake Carlton Ware Script mark. Thanks Tony for spotting these storage jars in M&S last year and letting us know.

Helen has a colleague who does a lot of business with M&S, and who made enquiries with the retailer on our behalf, and was told that it is likely that the original maker of these jars is based in the Far East. We suspect that the same faker is applying a false backstamp to this and other similar pots that originally have no makers mark. This operation is thought to be UK based. When we learn more we will let you know.

Fans of Liquorice Allsorts must visit h2g2 - The Guide to Life, The Universe and Everything by clicking here! ❑
---
Tuesday 3 June 2008

Don't forget the fake wine gums mugs mum.


Not sweet at all!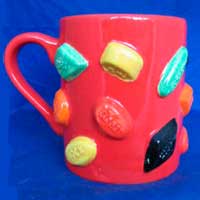 Last month we alerted you to a fake Carlton Ware Bassett's liquorice allsorts mug with a black background for sale on eBay. Subsequently, the same seller offered a fake Carlton Ware Bassett's wine gums mug with a pink ground. Both mugs have a fake script backstamp printed in black and shown left.

Usually, fake backstamps are less crisp than the original marks. Notice that on the fake mark, the loop on the last letter, e, is filled in, whereas on originals this is usually open, although with smaller marks when there is some bleed, the loop can close.

The black mug, shown above right, received 6 bids and sold for £10, including p&p. The pink mug attracted 1 bid and sold for £7 including p&p.

The same seller also offered another black mug and this sold for £9 incl. p&p. ❑


Scroll down for more.

---
Friday 23 May 2008

Bassett's Liquorice Allsorts Fakes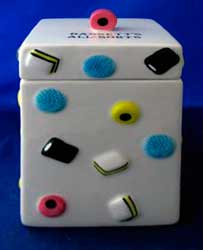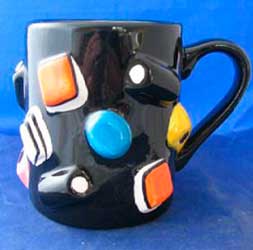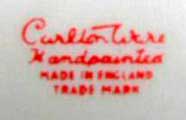 More from the fakers and soldon eBay, but no doubt in many other places. The storage jar has a red script fake backstamp and the mug a fake black script mark, as shown above. Usually, fake backstamps are less crisp than the original marks.

The storage jar received 10 bids and sold for £46, including p&p - expect to see more!

The mug received 6 bids and sold for £10, including p&p.

One week later, the same seller offered another storage jar and this sold for £20 incl. p&p. Another mug was also offered and sold for £9 incl. p&p. ❑

---
Sometimes, fantastical hearsay can be turned into misinformation.

A good example of the beginning of this process is to be found on eBay at the moment with the listing of yet another Hitler figure, shown left.

These figures began appearing in the early 1990s as Carlton Ware fakes. We believe that they were made from modified original Carlton Ware moulds found after the receivership in 1989, when many master moulds were discarded or dispersed.

Factory records tell us that figures of Hitler and other war related characters were modelled on the works; however, they did not enter production, which paradoxically was curtailed by World War 2.

The seller tells us that "These figures were made by a worker of Carlton Ware factory as a joke. I was told the chap got the sack."

We have no evidence to support this hearsay.

To be sure, more of these figures will appear on the market, so be aware of their "pedigree". They are not made by Carlton Ware, but by whoever it was who acquired its master mould after receivership in 1989. The decoration is poor and the palette of colours is not one used at Copeland Street.

If the £65 asking price is reached, it is likely that more will appear, or indeed be made!

The seller is reputable dealer in military memorabilia, so cannot be expected to be knowledgeable on ceramics.

If you have any observations on this piece then let us know. To contact us click here. ❑


---
We were alerted to this "Carltonware" vase on eBay and asked to comment on it. Bidding ended on the 20th April 08.

The pattern appears to be TREE & SWALLOW. The pattern number painted on this vase is 3270 but this belongs to completely different design.

In addition, the vase shape is not by Carlton Ware, although it is similar to shape number 217. The palette of colours is unlike that used at Copeland Street and the backstamp, shown below, looks suspicious.


For comparison, on the left is an example of an original Carlton Ware TREE & SWALLOW pattern.

The questionable vase is elaborately decorated and it appears that the gilding has been freehand painted, as opposed to being printed as was the case with the original examples.

The manufacturer of the dubious vase, whoever it is, has gone to considerable trouble, presumably in the hope that it will be thought to be a rare original, though of course many items on eBay are claimed as being rare and original! The decoration, however, is crude in comparison to the real McCoy.

To conclude, the next related picture and text should be of interest.






About 2002 a version of a TREE & SWALLOW was made by Moorland Pottery for the present owner of the Carlton Ware trade mark. This is shown on the left and was a limited edition of 150.

It was a clever adaptation of the original pattern. Instead of the pattern being printed, the outline of the design was impressed into the body of the covered vase shown, providing an outline for the decorator to work from.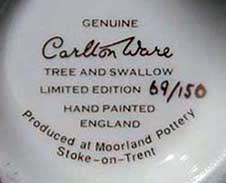 The backstamp on the Moorland Pottery version is shown on the right and and clearly tells us about the origin of the covered vase.

Notice that the knob to the cover is slightly fatter than on the original shape, as is the rim.




We do not accuse the vendor of deceit, for he, or she, may be unaware, but it looks like the originator is trying to pass it off as old Carlton Ware. We let you make your mind up as to whether it is or not! This item sold for £97.30 including p&p with 8 bids! ❑

---
Go to TOP of page