---
Walking Ware Fakes
-
many others exist!
Current eBay Watch items are first shown on the Latest News page.
Carlton Ware World does not accuse sellers of knowingly selling fake items. Sellers too can be duped by those from whom they bought the item/s.

---
New fake 'Walking Ware" teapot
This fake Carlton ware teapot is another variant on Roger Michell and Danka Napiorkowska's famous walking ware teapot.

In this instance, it looks as though it is made from the mould of the common or garden brown betty teapot shape onto which two crude feet have subsequently been stuck.

A fake Carlton Ware backstamp is applied to the handle. The seller withdrew the fake from sale. ❑
Scroll down for more.

---
Wednesday 5 November 2008
Fake face teapot with feet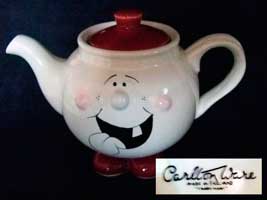 This teapot, with stubby feet and a part printed face, was never made by Carlton Ware, despite the script mark used on it, which is of course bogus.

The teapot did not sell, despite at least two attempts by the seller. ❑
Scroll down for more.

---
Triple Whamy!

Fake Walking Ware, fake Guinness Ware, fake Carlton Ware! This cup and teapot are all three!

When told, the seller of the cup withdrew it from sale on eBay. ❑


---
Olde Worlde Walking Ware!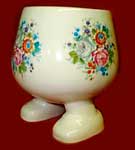 The fake Carlton Ware Walking Ware sugar bowl on the left was spotted on eBay last week, although the seller withdrew this particularly grim copy, presumably after being told it was not right. It had a fake script backstamp printed in black.

The application of a lithograph with olde worlde roses is completely out of odds with the ethos of Roger Michell's and Danka Napiorkowska's originals. ❑
---

Aside from anything else to do with this fake Carlton Ware mug, very loosely based on Walking Ware, the poorly painted yellow shoes with black spots are a tell tale sign of a fake. ❑

---
Honest John!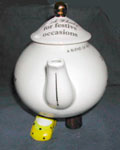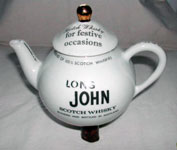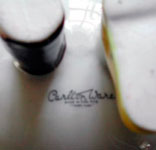 The fake Long John Silver teapot above was acknowledged by the seller as having a false Carlton Ware backstamp. The original Long John Silver teapot is shown above right and was made by Rising Hawk Pottery. Long John Silver items were never made by Carlton Ware.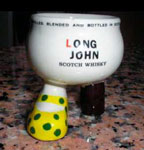 Clearly, this poor quality copy is being made by the same person making the fake Carlton Ware Long John Silver eggcup that we wrote about last month and shown left. This sold for an astonishing £44 including p&p.

The fake teapot sold on 22 June for an equally astounding amount - £108 including p&p, attracting 3 bidders. ❑
---
Sunday 17 May 2008
Poorly Potted, Poorly Painted

Yes, it's another fake!

This eggcup looks as though it it made by the fakers who are producing the "Guinness" items below. It has nothing to do with Carlton Ware or Long John whisky. It is a copy of the Lustre Pottery or Rising Hawk Pottery Long John Silver eggcup and was never made by Carlton Ware. Notice that the fake has a left peg-leg, whereas the original has a right prosthesis. As to be expected, it appeared on eBay and it sold for an astonishing £44 including p&p. There were 7 bids with 3 bidders.

Common to this and the Guinness fakes below is the red backstamp, which must now be a primary warning sign on other items.

We contacted Roger Michell, the designer of the original, for his comments. He replied:-

The Long John whisky egg cup is a copy although not in pure form. It is made to a very low standard, certainly not that of the factory we love and admire. Although I had designed for Long John Whisky not this. The decoration on the foot is horrid. So, no this wasn't any part of the Lustre Pottery and Carlton Ware collaboration. ❑

---
Go to TOP of page