---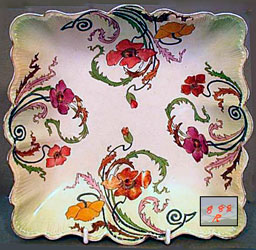 Throughout its history, one of Carlton Ware's strengths was its enthusiasm for embracing new trends in pattern design. Blushware, introduced not long after the pottery's inception, is an early example.

Here, we feature Art Nouveau Poppy from the extensive Blushware range of decorations, which employed delicately shaded pastel grounds.

This pattern's sinuous forms typify the Art Nouveau style, which enjoyed a short reign of popularity at the end of the nineteenth century and the beginning of the twentieth. The fleeting fashion for Art Nouveau might explain why the founders of Carlton Ware, Frederick Wiltshaw and his partners, the Robinson Brothers, introduced so few patterns in the style. To date, only one other Art Nouveau pattern has been discovered by us, Art Nouveau Cornflower and we will feature this at a later date.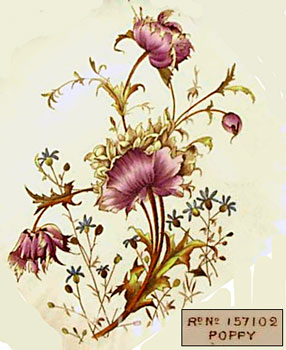 The term for the style originates from the Paris Gallery of Siegfried Bing, La Maison de l'Art Nouveau, which opened in 1895.

The pattern name Art Nouveau Poppy was coined by Carlton Ware World's long-standing naming committee to distinguish it from the earlier, more naturalistic POPPY pattern that we show on the right. POPPY was one of the earliest patterns produced by Wiltshaw & Robinson and was very popular having many variants. It was registered as a design in 1893.

Art Nouveau Poppy had far fewer variants, suggesting that it had a narrower appeal. Indeed, only three versions, aside from the one above (pattern number 888), have been identified by us to date. We show these below. Their pattern numbers, as found on each piece, are shown in the insets and are as follows 2390, 2395 and 2467.
It appears that in all of the four variants known to us, the flowers and leaves are decorated in the same colours. They may appear different in some of the pictures here but that is down to the camera used to take the image and the lighting conditions. Some cameras (and photographers) push or "enhance" colours so they appear stronger than in reality. (One of the problems with eBay!)

The variations in the patterns are in the backgrounds. If a pattern used a different background then it was allocated a different and unique number. These numbers assured that when an order was placed using a number no mistakes were made.

The letters usually found beneath, or alongside, the pattern numbers are thought to be decorators marks, although we will never know for certain.
We would like to thank all who sent us pictures and especially, Terry Wise.
---
Note - Factory pattern names are shown in bold upper case e.g. MIKADO, MAGPIE.
Names given by Carlton Ware World's long-standing naming committee and now in general use
are just bold. e.g. Heron & Magical Tree; Hiawatha; Floral Comet.
---