---
Below are selected articles published on this site in November, December 2010 and January 2011. We hope you will find some of interest.
Articles here have been moved from our Recent Articles & Announcements page and are in reverse chronological order.
---
Burns' Night
Raymond from Australia sent us the picture of the Robert Burns orange lustre plate on the right asking for its origins. Since tonight is Burns' Night this is the perfect time to talk about it.

We can only guess when the plate was introduced, but this is likely to have been in the early 1920s, when Carlton Ware began to use orange lustre on some of its Heraldic China to which this is related. Like the Heraldic China, the plate was aimed at the souvenir market.

The likeness is probably taken taken from Alexander Nasmyth's portrait of the great poet. Beneath Robbie are two stanzas from William Wordsworth, though they are slightly misquoted and from different poems.
The words were written in 1803 seven years after Burns' death, when, on a Scottish tour William and Dorothy Wordsworth were shocked by his meagre grave. Dorothy reflected
"We could think of little else but poor Burns, and his moving about on that 'unpoetic ground'."

Carlton Ware made busts of Wordsworth and Burns, shown below. Their smear-glazed finish give them a parian-like appearance.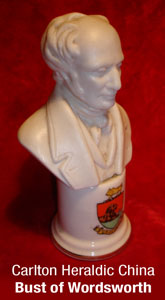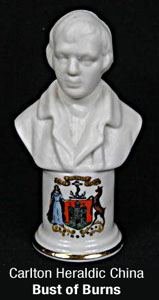 The words on the plate read


I MOURNED WITH THOUSANDS, BUT AS ON MOST
DEEPLY GRIEVED, WHEN HE WAS GONE
WHOSE LIGHT I HAILED WHEN FIRST IT SHONE,
AND SHOWED MY YOUTH HOW VERSE MAY BUILD
A PRINCELY THRONE ON HUMBLE TRUTH
IN BUSIEST STREET AND LONELIEST GLEN ARE
FELT THE FLASHES OF HIS PEN: HE RULES
MID WINTER SNOWS, & WHEN BEES FILL THEIR
HIVES DOWN IN THE GENERAL HEART OF MEN
HIS POWER SURVIVES.
On Burns' Night, in his words
'Should auld acquaintance be forgot... '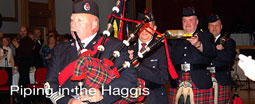 ---
New Years Day 1 January 2011
Happy New Year
Across the world, 2011 was heralded by fantastic fireworks displays, beginning in Auckland and finishing in New York. Two outstanding treats were here in London and in Sydney but all were spectacular. In true hogmanay spirit, revellers turned the streets of Scotland's cities into a giant party.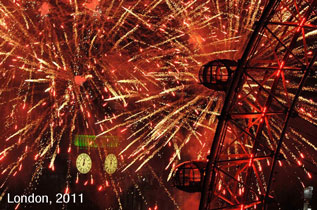 Carlton Ware had its own "fireworks" with two of Violet Elmer's patterns, namely Explosions and Firecracker Tree, the latter devised for bone china teaware. We show examples below.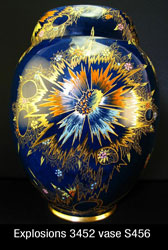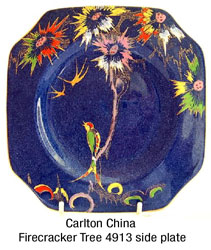 ---
Seventy years ago tonight
70 years ago tonight, on one of the worst nights of the Blitz, the City of London was ablaze.
Below, the dome of St. Paul's Cathedral stands out among the flames and smoke of surrounding buildings during heavy attacks of the German Luftwaffe on 29 December 1940.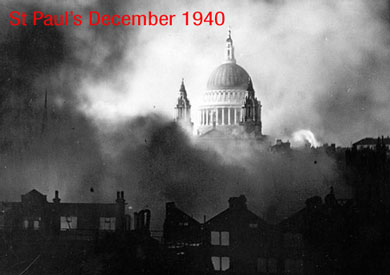 Eight churches by Wren were lost, but miraculously St Paul's escaped. As one of the most important buildings in London, Carlton Ware and other makers of souvenir china, popular in the early part of the twentieth century, made models Wren's masterpiece. ❑
---
Seasons Greetings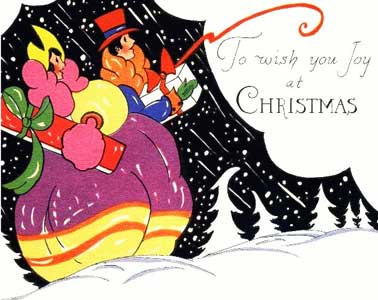 Carlton Ware World wishes you a Merry Christmas and a Happy New Year. Our Christmas card to you this year is from the 1930s. Then, as today, cards alluded to an idyllic past.

The crinoline, as worn by the lady on our card, was a popular theme during the 1930s, presumably reflecting the popularity of historical dramas.

It inspired several Carlton Ware designs, the most notable being Violet Elmer's VICTORIAN LADY 3451, which is shown below.
For those wondering what was beneath, we also show a cut away drawing from a Punch magazine of 1856. The structure was made from steel! One wearer's life was saved by this feat of engineering. When she threw herself off Clifton suspension bridge her skirts acted like a parachute and slowed her decent. Don't try this at home.... ❑ ©HP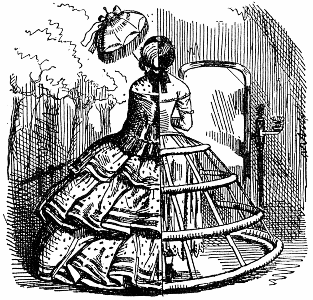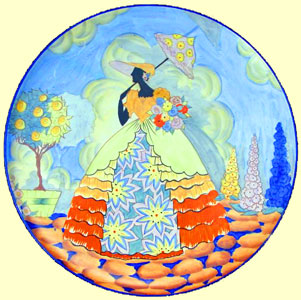 ---
Saturday 11 December 2010
Carlton Ware - a Star!


As an oblique reference to the approaching Christmas, below we show Rene Pemberton's STAR FLOWER pattern*, used against a Ruby Lustre ground. It is relatively unusual and has all the hallmarks of the talented designer, who is clearly in tune with the house style created by her predecessors Enoch Boulton and Violet Elmer.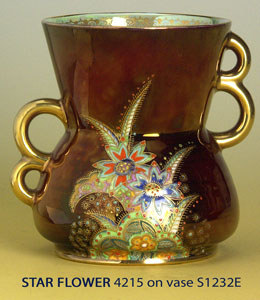 It's not like the Star of Bethlehem, but it is pattern that has been used as inspiration for some new fabric designs, which you may have spotted listed amongst Carlton Ware on eBay.
You can see that elements of the pattern have been adapted for the two designs below.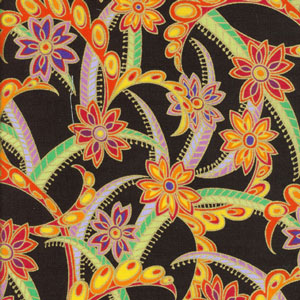 Carlton Ware keeps you warm!
Violet Elmer's Egyptian Fan is the source of two more designs, part of what is called the Deco Dreams range of fabrics aimed at quilters. These are shown below.

It is interesting to see Carlton Ware being used as a design source and to see the designer's interpretations. The range also includes patterns inspired by a contemporary of Violet Elmer and Rene Pemberton, Clarice Cliff.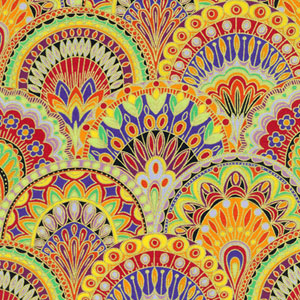 If you are interested in the fabrics, which come in a range of different colourways, they are available from Quilters Haven and other suppliers. Get quilting! ❑
*Erratum. Star Flower was wrongly attributed to Violet Elmer. It is by Rene Pemberton, confirmed by both designers in interviews with them.
---
Coronation Street character jugs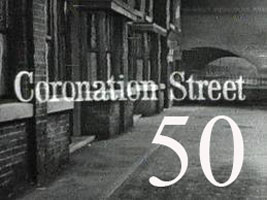 Coronation Street is fifty years old this week.
It is the longest running and most watched soap opera, first broadcast in December 1960 by Granada Television.

Initially, it was not a critical success. The Daily Mirror said the series would last only 3 weeks!

In 1986, to celebrate the soap's 25th Anniversary, Carlton Ware was commissioned to make six character jugs based on Stan Ogden, Albert Tatlock, Ena Sharples, Hilda Ogden, Mike Baldwin and Bet Lynch.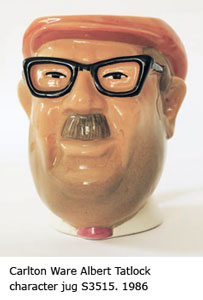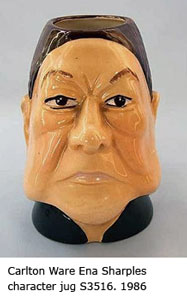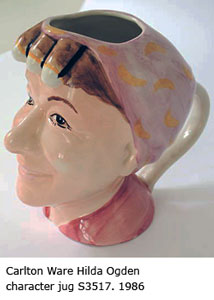 The likenesses are very good and instantly recognisable by aficionados of the series. In the picture captions, the number after the letter S is the shape number of each jug. The numbers are sequential; 1986 is, of course, the year of introduction.

The image on the right shows the form of the backstamp used on the jugs, each being marked with the name of the character.
As far a we know, these were the only character jugs made by Carlton Ware in its 100 years of production at Copeland Street, although some of the Fluck & Law Spitting Image range, also introduced in 1986, might be considered to be in a similar vein.

Character jugs are most often associated with Royal Doulton, who introduced them in the 1930s. The Carlton Ware examples were part of the character jug revival that took place in the 1980s. Renewed interest in them was probably stimulated by the resurgence in the popularity of novelty teapots a decade earlier and in which Roger Michell and Danka Napiorkowska played a key role with their work for Lustre Pottery and of course Carlton Ware.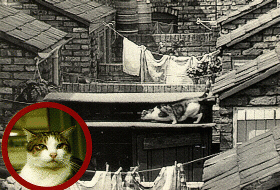 Another famous 'Corrie' character was Frisky the cat, who starred in the soap's opening sequence. He beat 5000 other potential cats to the role! Sadly, he is no more.

In July this year Frisky's ashes, sealed in a wooden casket with a brass plaque, were sold at auction. Before the sale, the auctioneer said we are not expecting a dog fight over them.

Even in death, the soap's drama and sense of humour lives on! ❑
© Harvey Pettit 2010
.
We would like to thank Jamie Howell for sending us pictures of his character jugs.
Addendum
Sunday 5 December 2010
Jamie wrote to us to suggest that the Mike Baldwin character jug is modelled on Ken Barlow, who was Mike's arch rival. They do look similar.

Harvey, who was on the works when the jugs were being modelled, recalls that there was trouble in gaining the actors approval for their jug, so it is possible that because of the men's similar appearance the name could have been changed. Does anyone know Bill Roache, who plays Ken Barlow, or Johnny Briggs, who played Mike Baldwin, to ask if either was unhappy with his representation? Below we show the jug in question sandwiched between pictures of the two characters.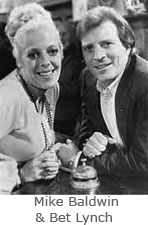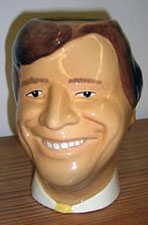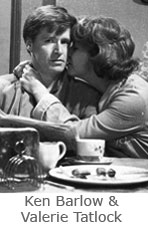 In 2006, 12 million viewers watched Mike Baldwin die in the arms of his long time rival Ken Barlow, another everyday event! ❑
---
Ooops - we nearly forgot!
Belatedly, we report on our Annual Get-together in the Potteries in October. Let the montage of pictures below tell you about this highly enjoyable Carlton Ware World event with its jam-packed programme. We would love you to join us in the Autumn of 2011. Dates of events for next year will be announced shortly.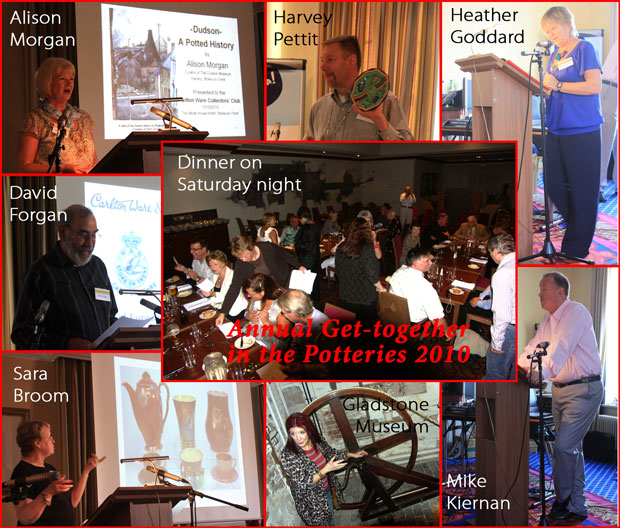 Many thanks to Terry Wise for taking the pictures. We would have had more if Harvey had removed his lens cap!
---
More Monogrammed Mysteries
Jeanette sent us the picture of the jug below to add to our Monogrammed Ware page in the hope than one day we will discover where they were decorated.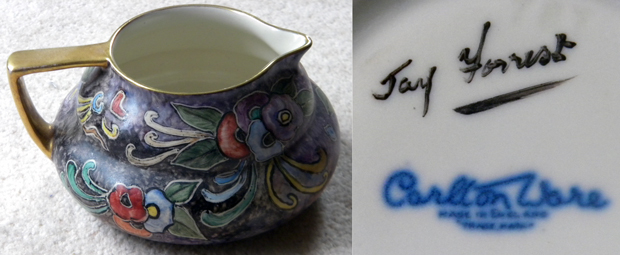 The vase below was offered for sale on eBay recently. The 1938 on its base is likely to be the year in which it was painted. On the jug and vase shown here and on most monogrammed ware the palette of colours employed is unlike those in use at Copeland Street. You can read more about these unusual pieces by viewing our Monogrammed Mysteries page
We would like to thank Nick Roberts in England trading as catstealer for use of his pictures.
---
New Scam?
See this picture on eBay....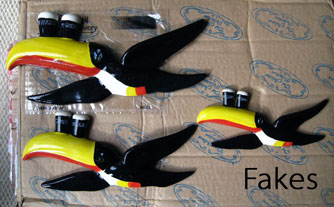 In October, eBay seller stirlingsales-19 listed a set of Guinness flying toucans using the picture above left. The amusing birds were sold for £137 but when received by the buyer turned out to be fakes. Those sent are shown in the picture above right, which was emailed to us by the buyer, a longstanding UK dealer in Guinness antiques. He returned them to the seller and was eventually refunded, excluding postage.

In neutral feedback the seller, stirlingsales-19, said of the transaction

Toucans EXACTLY same as in listing, didn't want them, any excuse, gave a refund.

stirlingsales-19 then relisted the toucans using the same picture of the originals, which this time sold for £102 to a buyer in Australia. On receipt, the buyer also realised he was sent fakes and not the originals as shown in the relisting. An attempt by the buyer to return the fakes was met with hostility.

In negative feedback for stirlingsales-19 the unhappy buyer said

Listed Genuine Toucans, sent me FAKES, didn't accept my offer to resolve amicably.

stirlingsales-19, who is based in Brighton, has not responded. You can view his relisting on eBay by clicking here.


Caveat Emptore - let the buyer beware.
---
Chinese vase sells for £43 million!
This week, the Qianlong vase on the right sold to a Chinese buyer for an extraordinary £43 million plus commission. It is thought to have fetched the highest price for any Chinese artwork sold at auction. This demonstrates how highly regarded ceramics are in China. The vendor from a London suburb is in shock!

Qianlong was the name of the Chinese Emperor who officially reigned between 1736-1795. Qianlong used to be written Kien Lung in the same way that Beiging used to be written Peking and Mumbai Bombay.

This is where we take a look at Carlton Ware's range of KIEN LUNG patterns, introduced by Horace Wain shortly after his arrival at Copeland Street just before World War One. Wain was strongly influenced by eighteenth century Chinese and Japanese ceramics, not only with regard to patterns but also shapes, clearly admiring their excellence.

His oriental designs were a radical departure from the blushware patterns that preceded him at the pottery.
He ensured that Carlton Ware enjoyed continued success as it followed the vogue for orientalism.
Below, we show the only known patterns from Carlton Ware's KIEN LUNG range. It is likely there are others.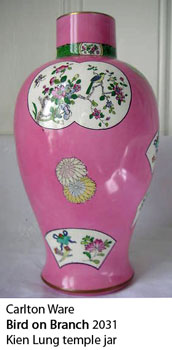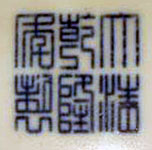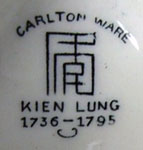 On the left, is the backstamp found on the £43 million vase and on the right is the backstamp that Wain devised for Carlton Ware's KIEN LUNG range. You can see that Wain takes part of the Chinese mark - the upper left quadrant - incorporating it into the special KIEN LUNG backstamp as used on the range.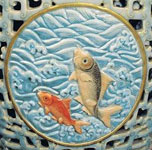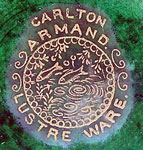 The source of the special gold printed backstamp for Carlton Ware's ARMAND LUSTRE range has been a mystery to us,
as has the origin of the name Armand.

Perhaps one of these enigmas has been solved through the Qianglong vase just sold. The circular panel on its front depicts flying fish as does the ARMAND mark!
Somewhere, Wain must have seen a similar motif perhaps on a pot that he had viewed or owned. I shall contact his family and tell them to look in the attic! © Harvey Pettit 2010.
We would like to thank Bruce Nichol and The Margaret Jones Collection for use of the image of the SEASONS vase, as well as Bainbridges of West Ruislip for pictures of the Qianglong vase.
---
Articles here have been moved from our Recent Articles & Announcements page and are in reverse chronological order.
---