---
Below are selected articles published on this site in February, March & April 2011. We hope you will find some of interest.
Articles here have been moved from our Recent Articles & Announcements page and are in reverse chronological order.
---


Jolly Gooding
Counting the Royal Sheep
In 1984 Carlton Ware introduced a series of eleven sheep as caricatures of the Royal Family. These were by freelance designer Malcolm Gooding, who presumably modelled them. What better time to take a closer look at these curious creatures than to coincide with the Royal wedding of Prince William and Catherine Middleton?

There has been some debate as to which sheep represents which person. Below is their entry in the shape book. This will not have been done by Mr. Gooding, so the names will be those by which the models were referred to on the works. These are not necessarily the names which Malcolm Gooding would have used. No drawings of the sheep were entered to help us identify them. All were allocated shape number 3462, although none have this number embossed into the base.

Image courtesy of The Cochrane & Pettit Archive of Carlton Ware.
I read the entry into the shape book as as
3462 - "Gooding" Sheep -

Colonel, Hunt lady-master, Vicar, Bikini Girl, Court lady, Queen, Queen Mother, Cartland, Lady Di, P Charles, Duke Edinburgh.
Using this information and some guess work let us try to identify the eleven characters, from some of the images we have of them..

Who's Who - the identification parade....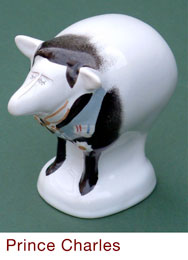 I am certain the model on the left is meant to represent Princess Diana. The hair style and colour look correct, as the rosy cheeks seem appropriate. If not Diana, who else from the list above could this be?

The model on the right is one of the more easily identifiable figures and must be Prince Charles. Again the hair colour is correct and perhaps the ears are a little larger! This model is very similar to that of the Duke of Edinburgh, shown below.
3 May 2011

I asked if any fashion aficionado's recognised Diana's hat above. Jacqui thought that it might have been worn on the Charles and Diana tour of Australia in 1983. Well done Jacqui, I think you have found the source of inspiration for the model, as you can see from the picture on the left
---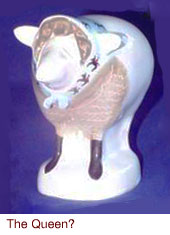 I believe that the two models on the right represent the Queen and The Duke of Edinburgh. Again the hair gives us a clue in identifying both models and surely, the presence of a headscarf can only mean its wearer must be ER II.

Notice the similarity between Prince Charles and the Duke of Edinburgh, because both are in navel uniform and wear the blue sash of the Order of the Garter. The Duke, in the uniform of Admiral of the Fleet, has more medals, a receding hair line and is perhaps looking a little grumpy!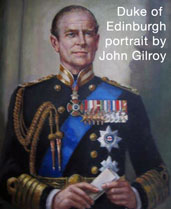 ---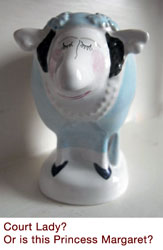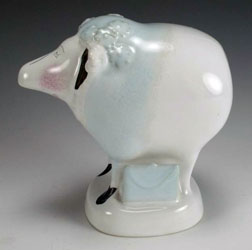 The next model is usually claimed by eBay sellers to represent the Queen, but the list from the shape book suggests that this is the Court Lady. I would hazard a guess that this is meant to be Princess Margaret - the dark hair could be a clue.

It is probably the presence of the handbag that indicates to some that this is meant to be The Queen. It could of course just be a Court Lady or a Lady-in-waiting.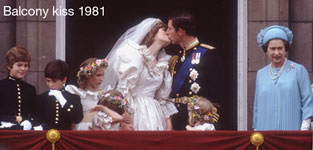 Helen and Keith Martin believed this to be a model of the Queen Mother because of the pearls and handbag.

It looks likely that the inspiration for this model came from a picture of The Queen at Charles and Diana's wedding in 1981, shown left, so perhaps it is meant to represent our Sovereign.

What do you think?
---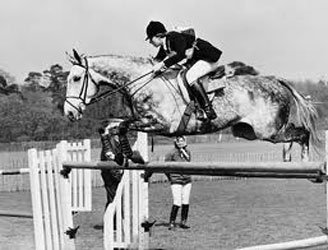 So enthusiastic was Princess Anne about riding and hunting, the model on the left has to be her and what was called the Hunt Lady-master in the shape book.

Anne's feistiness is characterised by having a bit between her teeth! Notice she is in "hunting pink".
---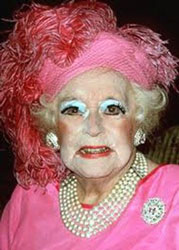 Our next model is perhaps the easiest to identify. This can only be Dame Barbara Cartland. Her Royal connections are via Princess Diana, whose stepmother, Raine, Countess Spencer, was Miss Cartland's daughter.

Larger than life and a successful author, Barbara Cartland published more than 700 romantic novels in her lifetime. She died in 2000. Writer and broadcaster Arthur Marshall amusingly, but cruelly, described her as an animated meringue. We would have been the poorer without her eccentricities.
---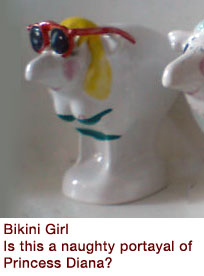 The next picture shows Bikini Girl. Assuming this too is a Royal, who could it represent? The figure is a risqué portrayal if it is, since it shows "bikini slip".

In 1982, The Star and The Sun followed Charles and Diana to the Bahamas and in a sneak attack took pictures of pregnant Diana in a bikini. The Queen called the action The blackest day in the history of British journalism. Could this be a reference to the event? There are other pictures of Diana wearing a two piece costume and sun glasses, so the model could have been based on one of these. What do you think?

I was going to suggest that this was meant to be Sarah Ferguson, Duchess of York, but although she had known Prince Andrew, her husband to be, from childhood they were not re-acquainted until 1985, a year after the sheep were introduced. Andrew and Sarah married in 1986.


---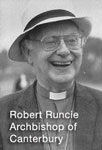 According to the shape book entry, this leaves three models, Queen Mother, Colonel and Vicar. Unfortunately, I don't have images of these, but I can tell you that The Queen Mother was similar to Barbara Cartland, with a similar flamboyant hat but decorated in pale blue. I feel sure that the Colonel and Vicar also represent characters with Royal connections. Could the Colonel be Captain Mark Philips, Princess Anne's husband, since he was in the army? I have no suggestions for the Vicar, other than it could be meant to represent the Archbishop of Canterbury, who in 1984 was Robert Runcie; he married Charles and Diana in 1981 and baptised Prince William in 1982?
On this note may we wish the Duke and Duchess of Cambridge a long and happy life together. I wonder how Malcolm Gooding would have portrayed them?
By all means contact us by sending your comments about the ID parade.
Only Malcolm Gooding could reveal who's who accurately. If you read this Mr. Gooding do get in touch. We would love to hear from you. Twenty seven years on, your sheep are creating a lot of interest. Carlton Ware was often ahead of its time. ❑

© Harvey Pettit 2011.
Scroll down for more past news.
---
Fakes Update...
It's been a while since we posted an article on fakes, although we keep an eye on them for you. The Guinness Zoo series of animal fakes, made from original moulds, are well publicised here and elsewhere, so we feel no need to alert you to these.

What is less well known are the fakes where the deceitful take an old unmarked pot by another maker and apply a faked mark to it. Below is a good example, which is presently for sale on eBay. It is easy to tell that its quality falls far short of that we expect from Carlton Ware, since the flower heads are crudely modelled and decorated. In this instance, the faked backstamp transfer, which is like a plastic film, may not even have been fired on, but stuck on, in which case it could be scrapped off.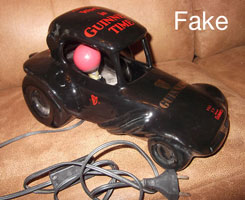 The other type of fake, usually with a black or white ground using non Carlton Ware shapes, is also well known but as time goes by new shapes appear. Typically they are covered with Guinness advertising slogans in red, black or gold.
Above, are two particularly gross examples spotted recently from arch fake seller nevetswogsalg (Glasgow Steven backwards). If you click on the link to his name you can see what he is offering for sale at the moment. We wonder what fakes of other potteries he is selling? ❑
Scroll down for more past news.
---
Good Friday 22 April 2011
Happy Easter - Egg!
What better way could there be to wish our readers Happy Easter than with this Humpty Dumpty musical jug, which Carlton Ware introduced in 1935? Bright eyed and looking very pleased with himself, in his tricorn hat and high collar, he is styled as a traditional Toby jug.

He was one of a small range of Carlton Ware musical novelties, made in the 1930s.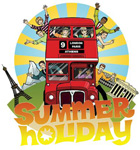 The Easter holiday is most welcome and is a reminder for us to mention that you might like to join us this Summer at one of our forthcoming gatherings, which are always enjoyable.

We hold our May meet in Northamptonshire, our July gathering in Torquay and our Premier Annual Get-together in Stoke in September. You can view dates and details on our Meetings page, where you can easily register your interest or make a booking. Food and good company are always provided. We will make you most welcome. ❑
Scroll down for more past news.
---
Fired Earth - ORBIT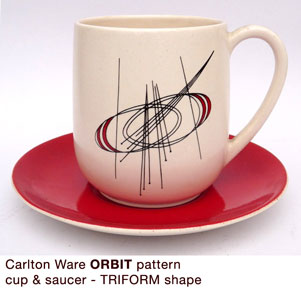 In 1961, fifty Years ago today, the Soviet Union sent the first man, Yuri Gagarin, into earth orbit. Three years earlier they astonished the world by launching Spuntnik 1. Thus began the Space Age and the space race with the USA. No doubt these events led Carlton Ware to introduce their ORBIT pattern.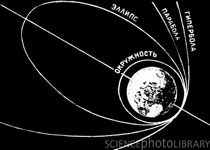 Carlton Ware liked to keep pace with the times, choosing not to depend on designs from the past. Because of this the pottery continued to catch the buying public's imagination. ORBIT, a lithographic decoration, was used on the TRIFORM range of tableware shapes, which used an attractive soft white matt glaze. Some more examples are shown below. ❑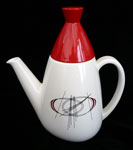 Scroll down for more past news.
---
Bulmer's Bird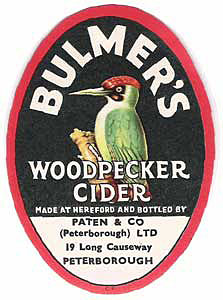 Geoff from Hereford, where Bulmers Cider was founded in 1887, asks for information on the woodpecker figures that frequently appear on eBay and said to be by Carlton Ware. Presently, one is being offered with a Buy-it-now price of £65 and because of this high price he asks if it is original. Carlton Ware did not make advertising ware for Bulmers so we can assure Geoff that it is fake. The cider maker did commission a plastic bar ornament and since the fake pottery figures are almost identical in shape it is possible that their moulds were made from one of these. ❑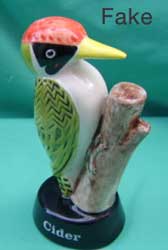 By comparing the plastic model above with the fakes on the left and right you can see some loss of definition.

The fake woodpeckers started appearing in the 1990s in tandem with the fake Guinness Zoo series of figures, although these were made from original Carlton Ware moulds, which had found their way into the fakers hands. In all cases the decoration is crude in comparison to the high standards maintained at Copeland Street. The colours on these fakes are thin and muddy against those used on the works.
The woodpecker is one of many shapes that were not made by Carlton Ware, which deceitfully have a fake Carlton Ware backstamp. Viewing our Fakes pages will help you avoid being duped by other items. ❑
Scroll down for more past news.
---
What the Devil...
Tins ain't what they used to be!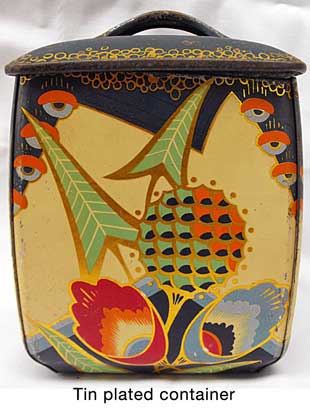 Ed from Australia sent us the picture of the tin shown above to ask us to comment. It is clearly a simplified copy of Violet Elmer's DEVIL, or related Devil's Copse pattern, a detail of which is shown alongside.

The tin looks as though it might have originally contained tea or biscuits but it was was first filled with toffees made by Edward Sharp & Sons at their Kreemy Toffee Works in Maidstone, Kent. The confectioners claimed to be the largest manufacturers of toffee in the world and exported to many countries. The brand was launched in 1911; Sharp's was taken over by Cadburys in 1999.

We can only guess that the tin is contemporary with Miss Elmer's pattern, which was introduced in the early 1930s. Most of the toffee maker's tins were printed with traditional designs, so the use of this radical pattern was unusual for the company. The shape of the tin is reminiscent of the Arts & Crafts style, which flourished between 1880 and 1910, so perhaps its form had been in use for some time. Examples of this tin shape have been found with a chinoiserie type decoration, not unlike some of those on Carlton Ware.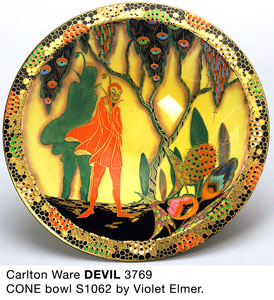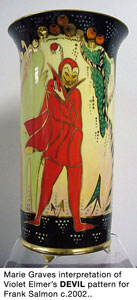 So striking is the pattern that interpretations of it were made recently by Marie Graves for Frank Salmon, the current owner of the Carlton Ware trade mark.

Miss Elmer's devil has also been made into figures by Mr. Salmon. No doubt more of the talented designer's work will be reinterpreted by others because of its dramatic appearance. ❑

© Harvey Pettit 2011


Scroll down for more past news.
---
Chinoiserie Conundrum
Charlie from California wrote to ask about the chinoiserie vase shown above with a gold printed and enamelled pattern against a powder blue ground, so typical of Carlton Ware. He did not recognise the pattern although it is very similar to Nankin 2021, which is one the earliest Carlton Ware patterns to use this attractive ground. An example is shown on the adjacent square tray. The two patterns are so similar that it is not easy to tell them apart, but they are not the same. Can you spot the differences? The vase, in a shape not used at Copeland Street, is by Wilton Ware, despite being marked Carlton Ware. Read on....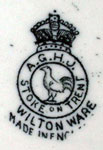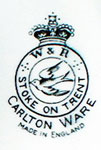 The similarity of the two patterns has an explanation.
Both are by Horace Wain, who on leaving Carlton Ware in the early 1920s worked for A J Harley Jones, makers of Wilton Ware. It is likely that Wain was also responsible for the name Wilton Ware, not used until his arrival, and the very similar backstamp that his new employer adopted. Notice the Carlton Ware swallow has been replaced by a cockerel. Clearly, Harley Jones was keen to poach Carlton Ware's customers.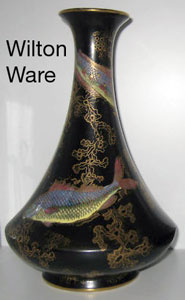 On the left is another example of Wilton Ware using the same vase shape as above. Its decoration is very similar to Wain's earlier Carp pattern for Carlton Ware, shown on the right. However, the competing pottery never quite matched the quality of that achieved by Carlton Ware, though at times it could be close, as is the case here.
Why, as we said at the beginning of this article, is the chinoiserie Wilton Ware vase backstamped Carlton Ware?

Its base is shown on the right. Notice that it carries what is known as the Cooper Black mark that the Woods introduced when they bought Carlton Ware in 1969, long after the vase was made. This is another case of where an old piece of pottery, which has no backstamp, to which a Carlton Ware mark has been added at a later date, in order to deceive. Charlie was right to be suspicious and ask for our opinion. In this instance, we are sure that the seller is unaware of the duplicity. ❑
© Harvey Pettit 2011.
Scroll down for more past news.
---
Heralded Status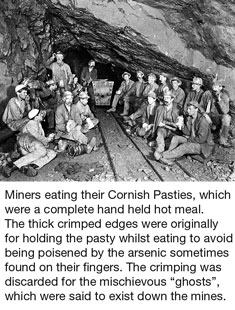 We couldn't resist featuring a Carlton Heraldic China Cornish pasty on the day that the tasty fare was given protected status and can now only be made in Cornwall.

The protected status means the pasty now has the same standing as Roquefort cheese, French Champagne and Newcastle Brown ale.

How wonderfully absurd is the china version, though being made in Stoke-on-Trent I wonder if this would be allowed now, even though this one carries a Truro crest!

The huge range of Carlton Ware continues to astound, allure and amuse. ❑
Scroll down for more past news.
---
Saturday 12 February 2011
Shelley at The Gladstone Museum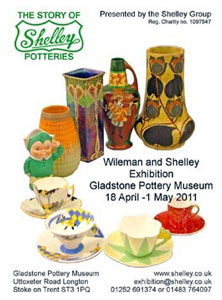 Our companion club, The Shelley Group, asked Carlton Ware World to let you know of their exhibition of Shelley Potteries, which was held at the Gladstone Museum in Stoke on Trent in April 2011.

The Gladstone is one of the most important heritage sites in the UK and where you can experience a working pottery as most were until the 1940s. Both The Gladstone and Shelley Potteries have many parallels with Carlton Ware.

The exhibition took the form of a timeline showing examples of earthenwares and bone china from the end of the 19th century to 1966, when Shelley was taken over by Allied English Potteries, in much the same way that Carlton Ware was taken over by Arthur Wood & Sons in 1968.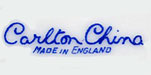 Shelley is probably best known for its bone china tea and coffee ware. Carlton Ware ventured into bone china production when it bought the Birks Rawlins china works in 1928. Below we juxtapose the two makers offerings.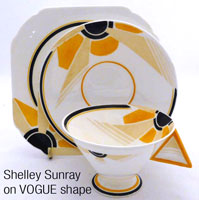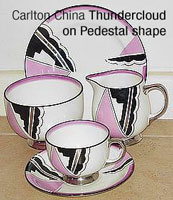 During the 1930s, Shelley, like Carlton Ware, produced some astonishing Art Deco designs despite, but probably because of, the difficult trading conditions of the time when it was even more important to catch customer's attention; this both potteries certainly achieved. It is amusing to note that in the adjacent pictures the Shelley pattern name is Sunray, whereas the Carlton name is Thundercloud!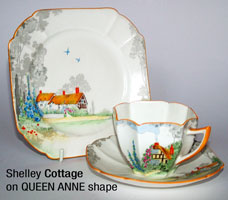 Patterns depicting idyllic country or garden scenes were also popular during the 1930s. The style of this type of decoration adopted by Eric Slater for Shelley, and Violet Elmer for Carlton Ware was distinctive and different.
Shelley prided itself on making the whitest of china, its body having a high bone content, but Carlton Ware was close, having maintained the quality achieved by the Savoy China made by Birks Rawlins. Both potteries excelled in the print and enamel technique of decoration. Here in the UK, how lucky we are to have been blessed with such fine potteries, whose prosperity and survival had been made possible by their world wide export markets. ❑
© Harvey Pettit 2011.
If you have a particular interest in Carlton China made after 1928 then do visit www.carltonchina.info where you can see many examples.
Scroll down for more past news.
---
Thursday 10 February 2011
New pages added to website.
We have added two new pages to our site.

The first, outlines our mission; the second is devoted to recovering the stolen pattern records.

You can access both from the sidebar on the left, which is now in a slightly different order. ❑
---
Articles here have been moved from our Recent Articles & Announcements page and are in reverse chronological order.
---