Carlton Ware World Annual Get-together in the Potteries 2011
Angela Wood recalls the weekend.
Before saying anything about the weekend, a great big 'Thank You' goes to Sara Broom and Carole Moore for spending so much time and effort making all the arrangements and for providing generous donations from personal funds to organise such an eventful and interesting weekend.

Thank you also to the army of committee members beavering away in the background setting up raffle prizes, selling tickets and Carlton Ware goods and ensuring the technical equipment etc was in good order. Our M.C. Derek Towns did an eloquent job, well done! The donors of our raffle prizes certainly did us proud. Thank you all.
I am sure everyone would also like to thank Harvey Pettit for organising the optional event on Saturday. He put a great deal of time into researching and tracking the life and times of James Alcock Robinson, one of the three founders of Wiltshaw & Robinson, so that he could take us on a tour of where James Alcock lived throughout his life until the W&R partnership ended in 1911.
Members came from far and wide and some started their weekend earlier than others, meeting for dinner on the Friday. Members started gathering at the Moat House Hotel on Saturday to join the magical mystery tour.

Harvey provided everyone with a detailed map including postcodes to be used by the dedicated 'satnavers'. Oh dear, oh dear! As we all know the satnav is not perfect and does not always take you to the correct destination, especially when the Stoke road traffic department mess around with new road layouts, closing off some roads from one direction to reduce traffic in residential areas.
The various routes took us to the back streets of Burslem, eventually leading us to our final destination Dunwood Hall, near Leek. Wow! What a difference the Hall was from James's humble beginnings in Burslem.

The present owner, Mike Halsall generously allowed us entrance to the house and gardens and provided a much needed cuppa and some delicious biscuits. I personally found this optional event interesting and so did most of our gathering, getting lost was all part of the fun.

The visit was all the more poignant for John Robinson, the great grandson of J. A. Robinson, who Harvey invited to join us on our tour.

I must say we had the pleasure of Denise Burningham's company. As a result we were more successful than some with navigating to so many addresses. She is a good map reader and her eagle eyed observational skills spotted Park Cottage, when all had driven past it. Well done that girl! This was where James Alcock Robinson lived whilst at W&R.

Tony and I were unable to attend the dinner on Saturday night, which was enjoyed by 27 delegates.



On Sunday the Annual Get-together meeting began with a warm welcome and a lot to look forward to:-

Tony Wood (my husband) gave a talk about his "Descent into Hell" (How and why he collects Carlton Ware, apparently blaming me) Oh well that is for another AGM talk!!!!

Judging by the responses in the room everyone found it enjoyable and amusing and so did I!! Well done Tony (He hates speaking publicly).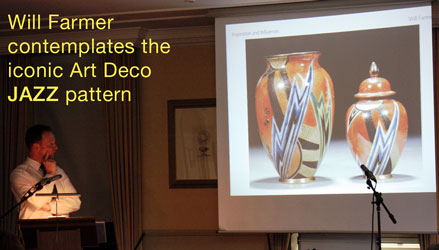 Our second speaker of the day was none other than Will Farmer from Fielding's Auctioneers and from the BBC's Antiques Road Show. He gave an excellent lecture on the background and influences that the Paris Exhibition of 1925 had (and still has even today) on artistic expression throughout the world.

Will explored the key ceramic designers of the Art Deco period and illustrated his talk with many slides of iconic art and architecture. For me, the most interesting aspect was his illustration of the source materials that influenced the likes of Clarice Cliff, Violet Elmer et al.
Will also brought along for us a DEVIL dressing table set for us to see and which was to be auctioned at his auction house on 8th October. Wow!!!

Following her visit to Australia with husband John, Sara Broom showed some slides and gave a commentary on the incredible and immense collection put together by Margot Whelan.


During and after lunch we were joined by former Carlton Ware employees and a lively discussion ensued. Prior to the auctioning of a 1941 apprentice piece plate by Edna Rowlands painted in 1941, Gladys Bennett , who was also a paintress talked passionately about how hard and long she had had to train to have her work accepted as adequate by "the missus".

Afterwards Edna's plate was auctioned in the room with Will "on the gavel". The auction was won by Terry Wise, who paid £310 for this very special item.
Edna Rowland's died recently and it was her wish that her plate should be donated to Carlton Ware World to raise funds. We are very grateful to her husband, John Barker, who saw that Edna's wishes were carried out.

The end of the event consisted of our annual raffle, in which Tony and I finally (after 3 unsuccessful years) managed to win a prize!!!I am sure everybody really enjoyed the weekend and I can thoroughly recommend it to anybody considering coming next year.

Angela Wood