Blue & White
In the late 1700s, Josiah Spode was the first Staffordshire potter to produce underglaze blue, transfer printed earthenware on a commercial scale. Transfer printing went on to form the cornerstone of British pottery industry well into the twentieth century.

Blue & White decorations tend to be traditional in nature and often copy or take their inspiration from patterns found on porcelain imported from China during the eighteenth century. One pattern was ubiquitous, namely the 'Willow Pattern' from 1790 and attributed to Thomas Minton. Wiltshaw & Robinson (W&R) produced a similar design for their Carlton Ware, which we call Nankin. It does not have the Willow Pattern's characteristic lovers, bridge or birds. Below, it is shown in cobalt blue and in a less common pale blue.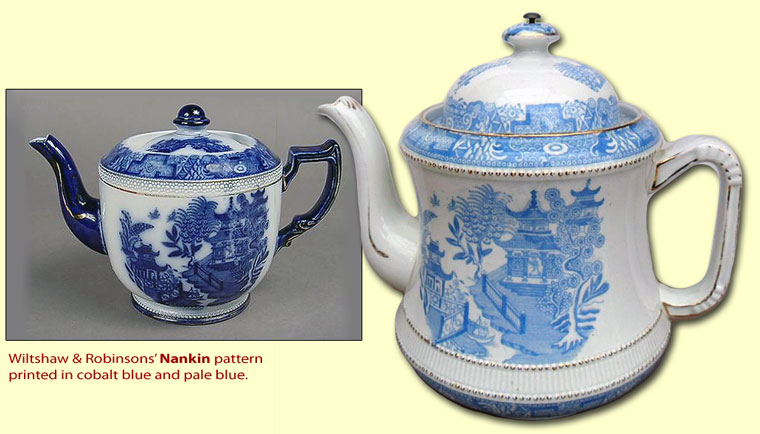 Aficionados of Blue & White might like to see a more detailed print and how it compares with a Worcester pattern.

From its inception in 1890, despite the popularity of Blue & White, Willow-type patterns, Wiltshaw and Robinson departed from the traditional by introducing their own original printed patterns in cobalt and other blues. These early Carlton Ware patterns featured stylized flowers and foliage. Below are two examples of
POPPY,
a pattern that W&R registered in 1893.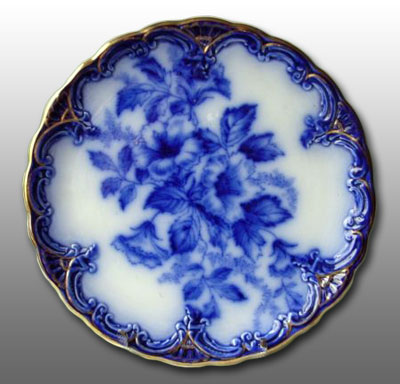 Flow Blue
By allowing the blue to flow into the glaze a new effect was achieved from light blurring of the pattern to a flood of blue that almost obscures the design.

On the right is a plate printed in cobalt blue using the Blushware Hibiscus pattern, where the blue has been allowed to flow into the covering glaze.

Gilding
Almost without exception, W&R's Blue & White patterns were "finished in gold". At its simplest, this was a gold line to rims and handles, as on the examples above and where some of the high points of embossing or rouletting are also highlighted by gilding.

More elaborate use of gold involved a random sponged effect as on the reticulated tray below
Raised Gold
The highly skilled use of delicate raised gold created even more elaborate flow blue decorations. The technique is analogous to tubelining but with much finer outlines, which were created freehand with a fine brush.
There were many more Blue & White patterns than shown here, the majority using prints from the large Blushware range. © Harvey Pettit 2015