Carlton Ware Blackberry range, shapes & patterns
---
Autumnal Notes
Here at Carlton Towers, we are having a glorious Autumn so what better way can there be to mark this time of year than the wild blackberry and thus with this article on Carlton Ware's
BLACKBERRY
range.

Carlton Ware's fruit and floral embossed ranges were extraordinarily popular. The pottery introduced new ranges on an annual basis throughout the 1930s and beyond. These attractive and skillfully modelled wares stem from the
LETTUCE & TOMATO
shapes devised by Enoch Boulton in the 1920s. They usually depended on a close collaboration between the designer and modeller.
During the later part of the 1930s, Cuthbert Wiltshaw engaged the services of a Frenchman to design new shapes for the pottery and who was responsible for this range. Designers Violet Elmer and Betty Wiltshaw remember him visiting the works but could not recall his name, so the moniker, "The Frenchman", as adopted by those at Copeland Street, stands until he is identified.

Ronald Hopkinson modelled the
BLACKBERRY
range, working from "The Frenchman's" drawings - they did not meet. Much is clearly influenced by the style we now call Art Deco, as the asymmetric and geometric shapes testify. No doubt, since France is regarded as the mainspring of the style, "The Frenchman" will have been more than familiar with its forms.
Carlton Ware introduced
BLACKBERRY
at the British Industries Fair at Olympia in London in February 1938. The BIFs were important showcases for the pottery and glass industries. They were patronised by the Royal family and indeed, in 1938, Queen Mary bought examples of
BUTTERCUP
, another Carlton Ware floral embossed range. A Royal purchase usually led to increased sales.
Below is an infographic showing a selection of
BLACKBERRY
. Aficionados will know that Carlton Ware cleverly used the same shapes for the pottery's
RASPBERRY
range, which had a pink ground and raspberry coloured fruits.
With typical Carlton Ware humour the fruit was also turned into a preserve pot, first by Enoch Boulton in 1928 and much later, in 1972, during the Woods' period.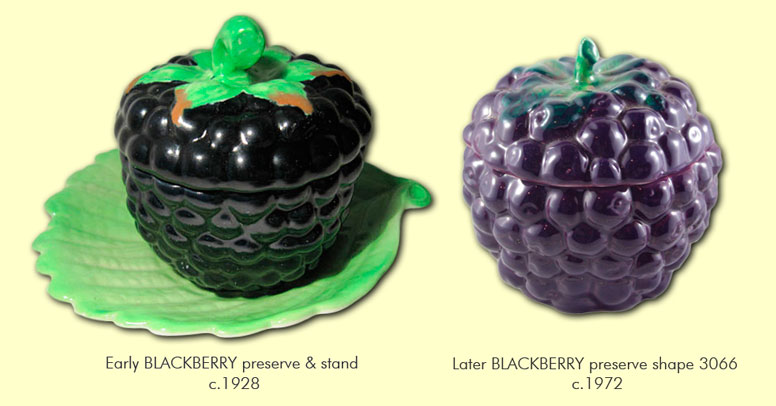 Blackberries were also given the Best Ware treatment. Below is vase shape S406 with the
BLOSSOM & SPRAY
3968 pattern, which was introduced at a similar time to the
BLACKBERRY
range. The decoration is on-glaze with large areas of raised enamel decorating the flowers and fruits. The jug shown is decorated with
SPIDER'S WEB
4316, one of Carlton Ware's most popular on-glaze patterns, which was available in many different colours, here in the pink. Both patterns were designed by Rene Pemberton.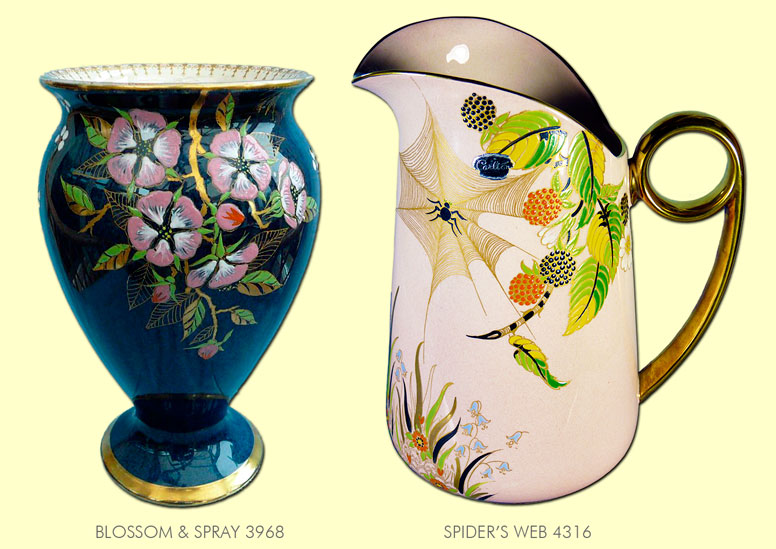 In the 1890s, the bramble was used on Carlton Ware's Blushware range as a freehand-painted decoration outlined in raised gold, a technique similar to tubelining but much more finely done. Below is a pair of vases in a decoration called
Bramble & Spider
alongside a detail from the pattern illustrating the fine raised gold.
Anyone for some blackberry and apple crumble, served up in a
BLACKBERRY
dessert bowl? ❑

© Harvey Pettit 2016.