Carlton Ware Cars
---
The Carlton Ware Bentley
Take a front seat and sink into the leather upholstery....

"Are you sitting comfortably?
Then I'll begin."
One of the advantages of running a website is that we are accessible to anyone with an Internet connection. A website can also enable easy contact, as was the case when I received a query from Brian Plummer, who had just bought a Bentley Mark VI made in 1952. Mr. Plummer wrote to say that the car's first owner was a Mr. C. Wiltshaw of Carlton Ware and asked if we knew anything about him!

He had come to the right place. As many of you know, Cuthbert Wiltshaw owned and ran Carlton Ware between 1918 and his death in 1966. I replied with some details and asked Mr. Plummer to send pictures of the car, which he kindly did and so some are included in this article.
I was particularly interested in the car because its misuse might have led to the brutal murder of Alice Maud Mary Wiltshaw, Cuthbert's wife.

There is a detailed account of the terrible offence in Staffordshire Murders by Alan Hayhurst, which was first published in 2008.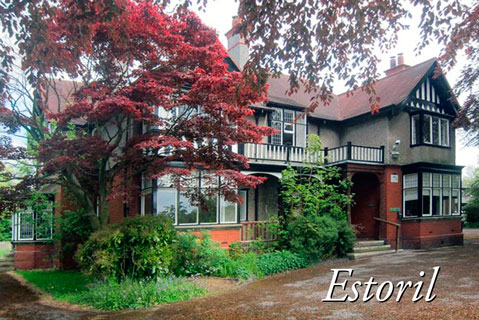 The crime was committed on 16 July 1952 at 'Estoril', the Wiltshaw home in Barlaston, some six miles from Carlton Ware's Copeland Street works.

At Carlton Ware World's Annual Get-together in the Potteries in 2005, we visited the large house, which at that time was part of the Wedgwood Memorial College.

To the right of the substantial building is a separate motor house with accommodation above. This is not visible in the photograph shown here but is where Mr Plummer's Bentley car must have been kept, though not for long, as we will discover.


Of the crime, The News of the World ran the headline 'Most Vicious Murder of the Century'. So what has the car to do with the heinous crime?
It was the chauffeur what did it....
And, as if in stereotypical crime fiction, a gloved hand and a poker were involved.
The killing of Mrs. Wiltshaw was far too horrifying to go into any detail.

Five months later, in December 1952, Leslie Green was found guilty of the murder. Green had been the Wiltshaws' chauffeur but had been dismissed for taking Cuthbert's car for his own use. Was this Mr. Plummer's Bentley? Did the sacking over its use lead indirectly to Mrs. Wiltshaw's murder? Mr. Plummer wanted to know more too. I had some checking to do....

Alan Hayhurst's book says that Green was sacked in May 1952, but most significantly the new owner of the car told me that the Bentley was first registered on 15 July 1952, one day before the murder. Clearly, it was not the car that Green had driven for Cuthbert Wiltshaw. I don't know if Mr. Plummer will be relieved or disappointed!
In any event, it makes an interesting story, though the brutality of the murder is most disturbing and must have been devastating for the Wiltshaw family.
When, as a student in the 1970s, a flatmate bought a second hand Mark VI, I remember travelling in it to visit my parents. In those days, large old cars were inexpensive to buy and as engineers we were not too daunted if they went wrong. This one had a battery that kept going flat. Conveniently, my parents lived on a hill, the perfect place from which to start the car. A quick release of the handbrake and the heavy beast with its 4½ litre engine, once having gained sufficient speed, could be started off the clutch. I recall neighbours saying how silent the car was as it glided down the slope. "You couldn't even hear it starting up." they remarked. I didn't have the nerve to disillusion them.

Mr. Plummer's Bentley did not spend long at Barlaston, because shortly after the murder Hayhurst tells us that 'Estoril' was sold. In 2005, I stayed in the spacious Edwardian house to discover that it has a striking Art Deco bathroom with walls covered in eau-de-nil and black ceramic tiles with matching bath, washbasin and WC.



This is an opportune moment to look at other Carlton Ware cars, this time with a more pleasant narrative!