---
In a previous article, from December 2009, we threw light on a charger decorated with Egyptian Fan. This caused such a lot of interest that we decided to feature the pattern here.

Violet Elmer was responsible for this exotic Art Deco design. The term Art Deco is derived from the famous 1925 Exposition Internationale des Arts Décoratifs et Industriels Modernes in Paris. The sobriquet, Art Deco, first appeared in print in 1966 in an article in The Times written by Bevis Hillier.
Mr. Hillier, art historian, was guest curator of an early exhibition on this distinctive style, held in 1971 at The Minneaopolis Institute of Arts. A charger with Egyptian Fan was included in the ceramics section of this ground breaking retrospective. The exhibition was called The World of Art Deco and helped define the style, which was heavily influenced by Aztec, African and Egyptian art.

The pattern version exhibited was that on a ruby lustre background. We show two examples on the left. Ruby lustre was one of the most popular backgrounds used by Carlton Ware, as was Powder Blue. Both grounds are synonymous with Carlton Ware.

Below, are examples on Powder Blue, as well as a covered vase with the pale blue and mauve ground, also used on the candlesticks at the top of the page.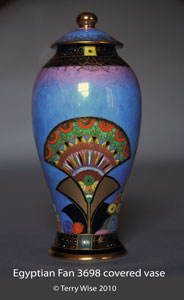 Notice that on the bowl, all elements of the design are visible, namely the main fan and the smaller secondary fan. This secondary fan was used to decorate the backs of all of the vases shown here.

Egyptian Fan has it own border decoration, which was used in appropriate positions depending on shape.

In total, there were 6 patttern variants,

3695 (ruby lustre)
3696 (powder blue)
3696A (green)
3697 (spotted mauve, pale blue & dark blue)
3698 (groundlaid mauve, pale blue & dark blue)
3753 (ruby as 3695, but no borders)

Pattern numbers and details provided by The Cochrane & Pettit Archive of Carlton Ware.

© Harvey Pettit 2010.
We would like to thank all who sent us pictures and especially, Terry Wise & Mike Kiernan, whose pictures are used here.
Note - Factory pattern names are shown in bold upper case e.g. MIKADO, MAGPIE.
Names given by Carlton Ware World's long-standing naming committee and now in general use
are just bold. e.g. Heron & Magical Tree; Hiawatha; Floral Comet.
---

Finally, and for a bit of fun, since Egypto-mania lasted throughout the 1920s and 30s, you might like to watch
Wilson, Keppel & Betty, whose act was popular in
music halls in the inter-war period. They are bound to have played in Stoke-on-Trent; perhaps Miss Elmer saw them...?

They even do an early version of the Moon Dance!

There were several Betty's, who were replaced, once they had worn out!
Their "Cleopatra's Nightmare" routine, which we show, was performed in 1936 in Berlin and condemned
by Goebbels as indecent. Click here for amusement and indecency! Make sure you sound is on.

If you would like to see another of their ridiculous acts click here!
---