Featured Pattern - NEW CHINESE BIRD & CLOUD
---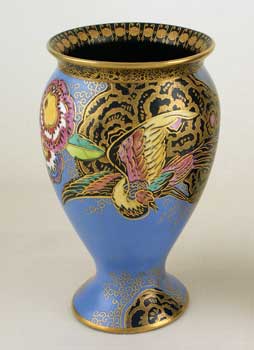 Exotic birds abounded in Carlton Ware Best Ware patterns. Above are three examples of NEW CHINESE BIRD & CLOUD, introduced in the 1930s and designed by Violet Elmer.

We would like to thank Chris Rutter for sending us the beautiful images of the first two vases above using a matt pale blue (3320) and matt chocolate (3321) coloured grounds. The third picture shows the pattern on a Powder Blue ground (3322). Untypically, the pattern numbers, given in brackets, are sequential.

Note that factory pattern names are shown in bold upper case. Names given by Carlton Ware World's long-standing naming committee and now in general use are just bold. e.g. Heron & Magical Tree; Hiawatha; Floral Comet.
---