---
Below are selected articles published on this site during April - July 2009. We hope you will find some of interest.
Articles here have been moved from our Recent Articles & Announcements page and are in reverse chronological order.
---
Albert Apple
Is he Carlton Ware, as he claims?
We have had enquiries about Albert Apple, who appears on eBay presently. On a paper sticker, attached to his base, he claims to be Carlton Ware.

The figure appears to be made from plaster of Paris and some of the paint used to decorate him has come off.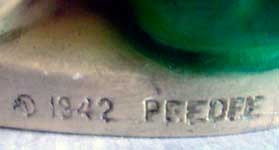 The edge to the oval base is impressed © 1942 Peedee, as shown in the picture on the right. So is he Carlton Ware or not? If not who was the manufacturer?

We consulted The Cochrane & Pettit Archive of Carlton Ware to see if it had any information on this curiosity, which looks so unlike anything produced at Copeland Street.
As far as we have been able to establish, Albert Apple and other 'Fruit Kids', as they were called, were made by, or for, the Pitman-Dreitzer Company of New York, a manufacturer and importer of gift items and glassware. Aside from any other considerations, these figures could not have been made by our Carlton Ware because, by 1942, decoration had ceased at Copeland Street with paintressses drafted in to do war work, such as making ammunition. The figures look as though they could have been made in Japan, but since the Japanese invaded Pearl Harbour in December 1941, this is highly unlikely.

Presumably, Peedee is taken from the initials of Pitman-Dreitzer. These, and similarly made items, are now called chalkware because they are made from plaster of Paris. No firing was involved in their manufacture; the decoration is probably sprayed cellulose paint. Below are five other 'Fruit Kids'.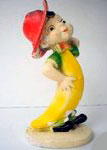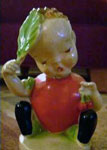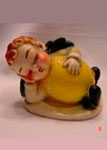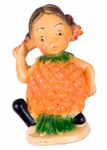 Pitman-Dreitzer, or their client, called these Billy Banana, Charlie Cherry, Lee Lemon, Penny Pineapple and Stella Strawberry.

We can only guess at the use of the name Carlton Ware, but suggest that it is beyond coincidence, with Pitman-Dreitzer taking advantage of the World War Two, which was well under way by 1942, the date found on these cherubic figures. Clearly, at such a difficult time it was unlikely Carlton Ware would have been aware of any infringement in the use of its name, or even inclined to do anything about it if it did.

It has been suggested that the 'Fruit Kids' were given away by an American jelly or jam maker, but we have been unable to verify this. Peedee chalkware wall plaques were made in 1944 based on the 'Fruit Kid' characters. © Harvey Pettit 2009.
Scroll down for more.

---
Zeitgeist
The study of Carlton Ware over its 100 years of production is also a study of styles and fashions during the period. From time to time, someone wrongly accuses Carlton Ware of copying patterns from other potteries, simply because there are similarities with a pattern by another maker. As far as CW was concerned, a more plausible explanation is that similarities are due to zeitgeist - the spirit or genius which marks the feeling of an age.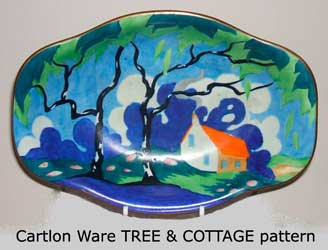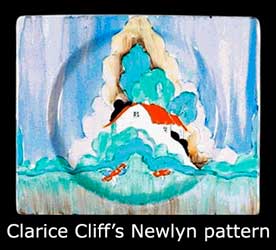 Above, left, we show the TREE & COTTAGE pattern, part of Carlton Ware's HANDCRAFT range. This has been claimed to be Carlton Ware copying Clarice Cliff, probably because it has a cottage with a red roof, a popular element of numerous patterns by Miss Cliff and her paintresses, but that is where the similarity ends, other than both are naive patterns, in which Miss Cliff led the field at the time. The most similar design I have found from Clarice's work is her Newlyn pattern, shown above right.

TREE & COTTAGE is introduced after Miss Cliff's decorations that feature her characteristic stylized landscapes, so it is possible her work influenced the introduction of this untypical Carlton Ware pattern, but a copy it is not.

As another example of zeitgeist, on the right, we show a preserve pot by an unknown maker. Coincidently, it reflects both of the next items we consider. These are Carlton Ware's LANDSCAPE TREE pattern and Clarice Cliff's Woodland pattern, both of which are shown below.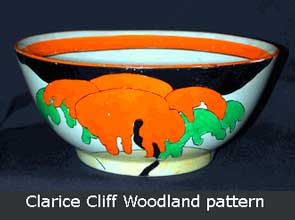 In this comparison, LANDCSCAPE TREE, which was introduced in 1927 by Enoch Boulton, predates Miss Cliff's similar design by about two years. Quid pro quo!

During the 1930s Carlton Ware has far more similarities with Crown Devon. This, however, is a consequence of Enoch Boulton leaving Copland Street to work for Fieldings, makers of Crown Devon. In this case there are examples of blatant copying of Carlton Ware's shapes and of course Fielding's introduction of decorations using Ruby Lustre and Powder Blue backgrounds, hitherto not used by Fieldings, as well as their introduction of Salad Ware lines, but that is another and much longer story.
© Harvey Pettit 2009
❑
Scroll down for more.

---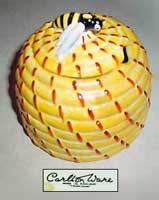 An unusual preserve or honey pot appeared on eBay recently in the form of a skep, a traditional woven beehive made from straw ropes.

Carlton Ware introduced a
BEE
range in the early 1930s, but this may not have been part of it. Let's consider the evidence.
The
BEE
range depicted a different bee, as shown on the rarely seen
BEE
honeycomb box on the right, which also appeared on eBay last week. In addition, the 'straw ropes' on the
BEE
range were decorated more plainly, as on the box.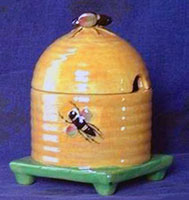 The wings of the bees on the
BEE
range are delicately shaded from pink to green, whereas those on the honey pot above are plain white.

The
BEE
range was quite large and included a teaset, plates, bowls, a cruet and a preserve, shown on the left, also in the form of a skep. You can see it is quite different from the one above.


---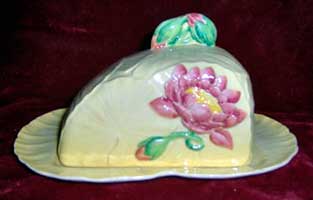 This
WATERLILY
cheese dish, shape number 1620, was also sold on eBay this week. It was in good condition, which is untypical because, so often, this and similar items were well used. Consequently, the base, especially, usually suffered damage and staining.


WATERLILY
was a large and successful range from the Floral Embossed
SALAD WARE
category. More than thirty items were introduced in the late 1930s.
---
Some unusual items spotted recently
We hope that the following items will be of interest. The first is a large
bowl with a futuristic
HANDCRAFT
design from the 1930s.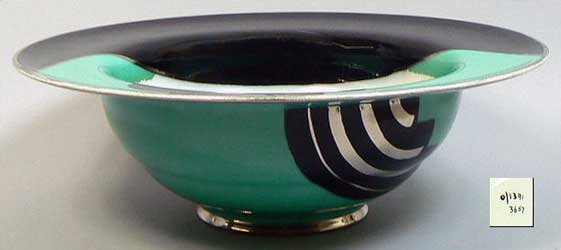 Its pattern number is 3657, which we know to be Chevrons, the pattern shown on the cylindrical vase below right, and yet, on the bowl, there are no chevrons!
Because the
HANDCRAFT
range was usually freehand- painted, the pattern could be adapted to suit the shape to which it was applied. Clearly, the hemispherical shape of the bowl and its wide rim lent itself, not to the straight lines of what we know as Chevrons, but to curves.

The interior of the bowl is very worn, but the outline of more curved silver lines can just about be seen.
The asymmetry of the adaptation is a good example of how Carlton Ware fully embraced the Art Deco style and the choice of colours is exemplary.

I wonder if Miss Elmer went to the cinema to see any of the Flash Gordon films of the 1930s in which chevrons, zig-zags and flashes abounded - I'm sure her husband-to-be would have taken her.... With hindsight, I should have asked the talented designer!
To see a short clip of one of these movies from 1936 click here. I hope the vase that gets knocked over in the struggle wasn't Carlton Ware!
© Harvey Pettit 2009.
---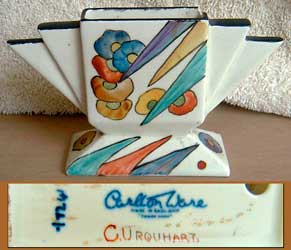 The next item to catch our eyes is the fan-shaped cigarette holder, which was part of Carlton Ware's MODERN range of shapes (the pottery did not end the word with an e, which a latter day affectation).

Clearly, this is another example of out-decorated Carlton Ware, which we now call Monogrammed Ware. This time it is signed by C. Urquhart. The handwritten number O/7241, shown in the inset, is an order number, not a pattern number.

The style of the design suggests that it is from the 1930s.

---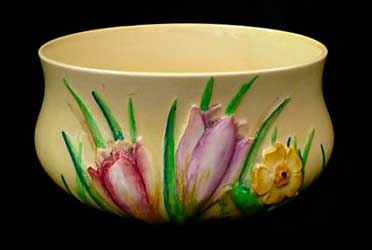 Finally, this unusual
CROCUS
Floral Embossed bulb bowl caught our attention. This shape, which was made in two sizes, is rarely seen. This is the smaller size.


SALAD WARE
collectors will know that this range was also available with a pale green ground. As always, these highly popular ranges were beautifully modeled and delicately painted. No other pottery produced ware of this type that matched the quality and flair achieved by CW.

---
"It's in Mint Condition
except for a chip, a hairline, & some wear!"
EBay is a good resource for finding unusual items, such as those we feature in the article above. Descriptions such as that in the heading here are not uncommon, so we ask you to take care before bidding. Read all the seller tells you with care and if there is any uncertainty about what is being offered query the seller. It's so easy to do.

---
More spot the difference
Further to our article below on the Beehive-marked porcelain table lamp, shown above next to a wine bottle to give an idea of its size, I show a comparison of the gold printed border on it and that used on some of Carlton Ware's
MIKADO
patterns.

At first site, the borders appear identical but there are differences. Look closely at the centre of the 'flowers'. It is extraordinary how similar the borders are.

I conclude that the pattern on the table lamp is a very close copy most likely to have been made in the late 1920s. To date, it is the earliest known copy of a Carlton Ware pattern.

It is likely that this copy came to Cuthbert Wiltshaw's notice because the subsequent Chinoiserie
TEMPLE
pattern was registered as a design in 1927, presumably in an attempt to stop further copying. (Source The Cochrane & Pettit Archive of Carlton Ware).

Paul Royse, the owner of the table lamp, makes some preliminary observations on a web page he has built, which you can view by clicking here. Paul's page enables you to contact him with your thoughts on the evidence and asks Chinoiserie collectors for their observations. Thank you Paul for bringing your fascinating find to our notice.

© Harvey Pettit 2009
---
Buxted Blush Beckoned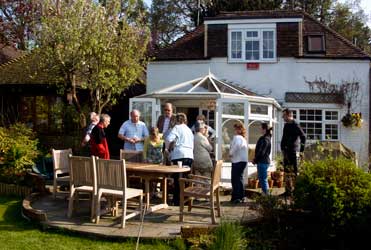 The picture on the left shows guests arriving at Carlton Ware World's Springtime gathering at Buxted in East Sussex. It reflects the informal nature of our get-togethers, where we also enjoy good food and company. Sometimes we even talk about Carlton Ware!

Our hosts, Mike and Babs Maunder did us proud, not least with a fine display of Blushware, which was mostly made between 1890 and 1912.
Below we show two shelves of many from Mike's collection, which revealed the wide range of shapes and patterns that W&R made during it's early years. Clearly, Fred Wiltshaw and the Robinson's were highly successful in supplying the tastes and demands of the time. Without this success it would not have been possible for the Pottery to have survived the difficult period after World War One.
Above all, the high quality of manufacture and decoration of these early wares shines through. There can be no doubt that Carlton Ware excelled in producing this type of decoration, which at the time of making was innovative and fashionable. Indeed, we believe that Carlton Ware was amongst the first to employ the newly devised techniques that Blush Ware required. It bears comparison with any of the other acknowledged makers of similar wares either in England, or on the continent of Europe.
---
Shedding Light...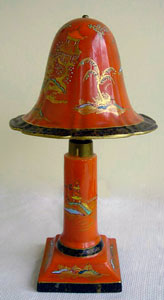 It is always exciting to find an unknown shape or pattern. Consequently, when the picture on the left arrived by email showing what appeared to be an unrecorded lamp base decorated with a Carlton Ware Chinoiserie pattern, the heart raced!

When Paul Royse, from Auckland in New Zealand, came across this 9-inch high gem, he sent pictures of it to Ian Harwood and Jerome Wilson because they had featured an article on Carlton Ware lamp bases in their July 08 Newsletter. Ian and Jerry forwarded it onto us wondering if we could shed any light on it.

Paul was certain that it had to be Carlton Ware, even though the lamp was made in porcelain and marked with a 'Beehive' backstamp, shown below. He suggests that Carlton Ware must have bought it in as blank and decorated it as a trial, to see the effect of the translucency that porcelain affords, but he asked for other thoughts.
The 'Beehive' mark found on the lamp base is thought to have been first used by the Imperial and Royal Porcelain Factory Vienna until 1864 when the manufactory closed. It was then used by many other European potteries, as well as some in Japan, causing much confusion subsequently. In some ways, the mark was abused in much the same way that the Carlton Ware backstamps are used by fakers today.
Paul suggested that the pattern might be
MIKADO
, which, at first site looks a possibility. On the left, we show
MIKADO
2881
, which uses the terracotta and black grounds found on the lamp base, but reversed. Carlton Ware introduced
MIKADO
about 1920, a pattern devised by Horace Wain, though this version of the highly successful pattern was introduced a little later.

So, is it the same pattern used on the lamp? Paul had sent several close-ups of the decorations and these enable us to compare the two. Below we show this comparison.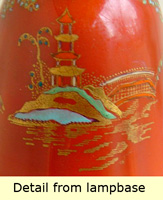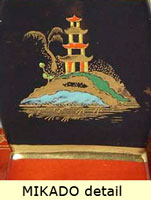 The first picture on the right shows a close-up of the 'Beehive' decoration, and the second a close up of a similar element from
MIKADO 2881
.

Differences are apparent. Aside from the outlines of the pagoda being unlike, the Carlton Ware example is more finely printed and detailed. Since a pattern print is like a finger print, I believe that the lamp is not decorated with a Carlton Ware pattern, but a copy of one.
If this is the case, what is the origin of the table lamp? My guess is that it is a Japanese copy of Carlton Ware, and by using a 'Beehive' mark, the maker implied that it was European. If so, it would have been aimed at the Australian market. We know that the Japanese did do this and was the reason why, eventually, Carlton Ware registered some of their designs in the UK and Australia.

This would be ironic in that we have a Japanese plagiarization of a European design, which was a copy of a style that may have originated in Japan!

Paul has asked for a right to reply to my conclusions and I look forward to his further thoughts. We will print his observations here, now that the lamp is in his possession, having just been purchased via the Internet.
© Harvey Pettit 2009
---