---

BUTTERCUP, part of Carlton Ware's extensive SALAD WARE range, was available in two colours, yellow and pink.

Today, we divide SALAD WARE into two groups, Floral Embossed and Fruit Embossed.
Thank you John and Sara for sending us pictures of the two lovely examples of BUTTERCUP chocolate mugs with covers, shown below.
If you read on we will take you to a link which shows you MUCH MORE!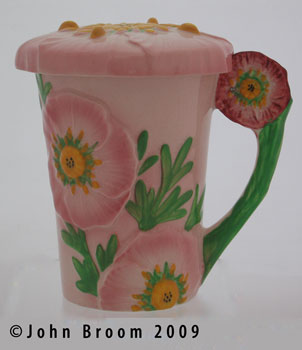 The range was large comprising more than thirty five different items. Clive Birch, from Greece, and Anne Bower, from Canada have sent us pictures showing many of these. To see their delightful collections click here and prepare to be amazed!
---