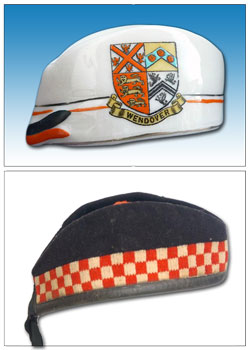 Wiltshaw & Robinson, the makers of Carlton China, produced a model of the Glengarry cap. Caps and hats were excellent vehicles for the large number of heraldic crests that decorated them.

By the 1850s, the Glengarry (a valley in Inverness-shire) had become typical headgear for Scottish regiments.

The cap had tails, as shown right, represented on the china model, not as trailing, but along the side, usually enamelled in red and black. The diced band was embossed on the model, but not decorated. Curiously, on the model, the toorie or pom-pom in the central crease is missing, probably unnoticed or hidden in photographs from which the modeller must have worked.
On the china model, the cap badge, which was attached to one side, is represented by an embossed thistle, sometimes decorated, as below. Also shown are three original cap badges incorporating the thistle.