May 2014
A tribute to all who died & suffered as a consequence of World War 1.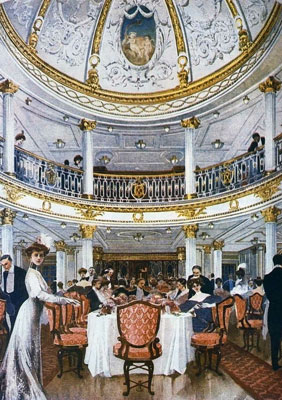 This is the fifth of a series of articles featuring Carlton Heraldic China models relating to the war.
Part Five - other ships
RMS Lusitania
In part four we looked at Carlton China models of battleships, showing you six. In this part we look at other Carlton Heraldic China boats relating to the war. One of the most famous was the Ocean Liner RMS Lusitania. Launched by the Cunard Line in 1907, she had some of the most luxurious, spacious and comfortable interiors afloat.

On the right is a promotional drawing of the first class dining room, in the neo-classical style.

On 1 May 1915 she left New York for Liverpool on what would be her final voyage. On the afternoon of 7 May Lusitania was torpedoed by a German U-Boat off the Southern Coast of Ireland. In 18 minutes she was sent to the bottom with great loss of life.

Below is a picture of the Lusitania in New York in 1915 and the headline from The New York Times on 8 May later that year.
Before the fateful voyage, the Imperial German Embassy in Washington placed a notice underneath a Cunard advertisement warning passengers of "destruction". These are shown below.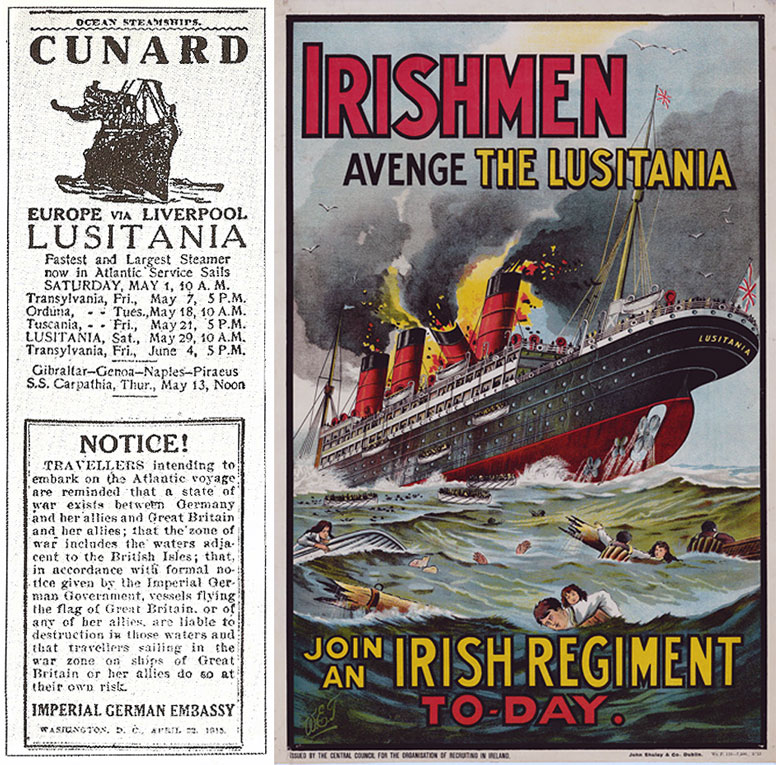 The sinking turned international public opinion against Germany and contributed to the USA's entry into the conflict in 1917. As the poster above shows, the sinking became an iconic symbol in military recruiting campaigns.

Below is a Carlton China model of RMS Lusitania printed with the words Remember the Lusitania on her stern; it is also found with the words shown in the inset. A printed and enamelled decoration of the liner was also used on other heraldic china shapes such as the jug also shown.