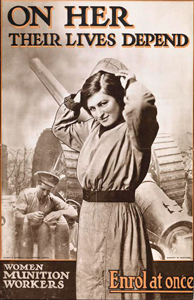 The outcome of the war hinged as much on industrial production as on the battlefield. With millions of men away fighting there was a severe shortage of labour.

During the war many women were able to help on the home front supporting the men who had gone out to fight. The largest area in which the women worked was in the munitions factories.

The posters that enticed women to work in the factories did not show the awful working conditions. Women's work was essential to the war effort. It was long, tiring and exhausting, as well as often dangerous and hazardous to health.

Between 1914 and 1918, an estimated two million women replaced men in employment.
Below, on the left, is a Carlton China model of a munitions worker on which is printed "Doing her bit". As you can see, she is holding a shell and at her feet are piled more shells. The scale of shell production in one of many workshops is shown the other photograph.